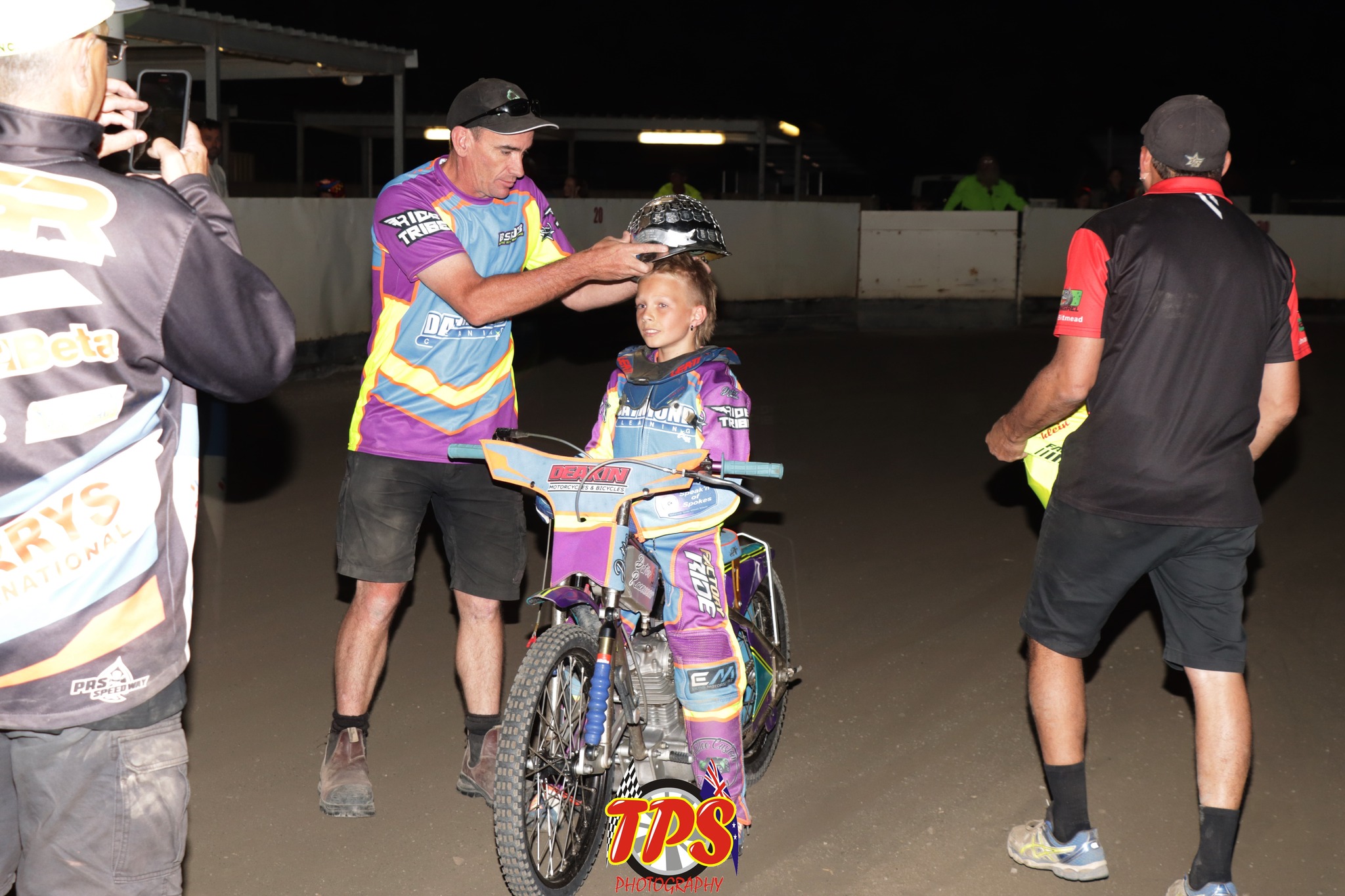 The Sidewinders Silver Helmet is a long standing event from the 70's and 80's where the final sees a 6 lap journey for 6 riders (up from the usual 4 laps & riders), with riders starting with a handicap of a certain amount of metres (back from the start line), that has been determined on their ability by the club and officials. This gives opportunity for newer up and coming riders to be able to win a title. Previous riders that have won are handicapped out of contention to win multiple times, giving chances to other riders to own the title. 
This year it was brilliant to have a total of 11 (competitive) riders enter the event (25 in total entries), which saw the need for 2 semi finals to see who would advance to the final.
THE FINAL: The final saw Nicol lead through the first 2 laps, holding Ambrose at bay, while Schlein had caught McGregor and was looking for a way around, heading into lap 3 and McGregor and Schlein found a way through on Ambrose, followed by Nicol on lap 4.
After that McGregor did everything he could to keep Schlein at bay, but coming out of turn 4 with a lap to go Schlein made a nice clean move to lead into turn 1, which he then held to the end to record a first up Silver Helmet win, with McGregor a fine 2nd.
While all this was going on at the front Pascoe and Canning were trying everything they could to make up ground from starting rear of field, but they were baulked in their efforts at every turn. First by Schlein & McGregor setting a hot pace, and then by Ambrose and Nicol in the second half of the race.
In the final couple of laps, Canning did manage to get the better of them both to come home 3rd, while Pascoe had to settle for 5th after managing to get one up and in front of Nicol on the final lap.
With the likes of the older juniors such as Ashley Jansen-Batchelor, Darcey Timmis and Harry Sadler (out earlier after a crash), not featuring in the Silver Helmet final for the first time in many years, this was very much a 'changing of the guard'. The Sidewinders Club and junior speedway, certainly have a bright future with the abilities that were on display, not only in this race, but across the novice and pee wee classes as well.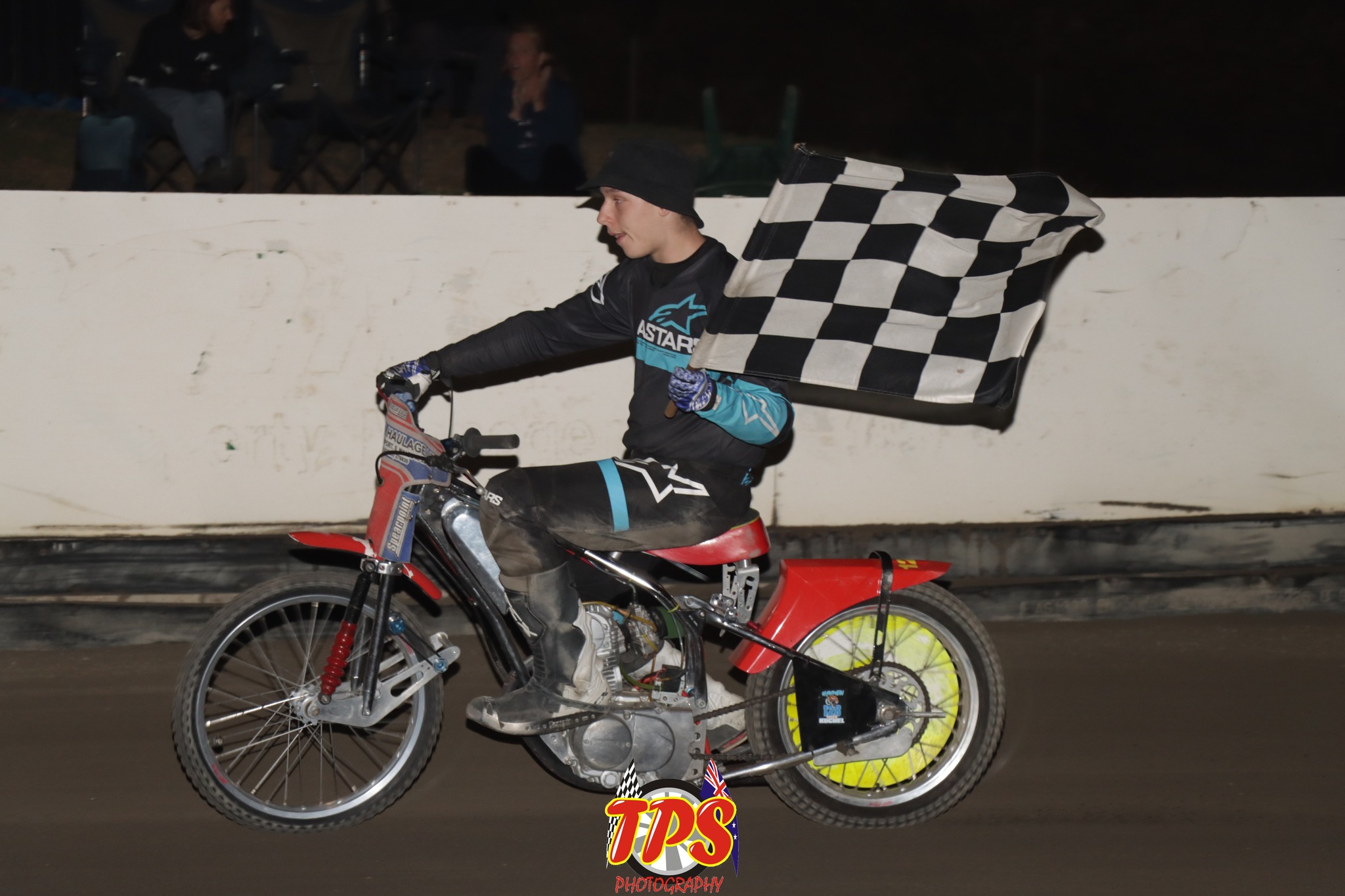 Huge shout out also to Hayden Kuchel, who had his final ride on a 125cc slider, as he now looks to continue his speedway journey on a sidecar. Everyone at Sidewinders gave him a warm round of applause as he did a well deserved parade lap to say 'seeya' to his solo career at the Club.
Do yourself a favour – head down to Sidewinders for one of their next meetings – take the kids – and check out the future of speedway here in SA – Great things are always happening there and the racing is always edge of the seat thrilling as well!
Terrysproshots Photography caught all the action. See the full album HERE 
SIDEWINDERS NEXT MEETING:
Saturday February 4  – the inaugural Mick Hargreaves Memorial Meeting. 
Nominations close this Sunday January 29th at 6.30pm. PM or text Adam on 0493 200 080.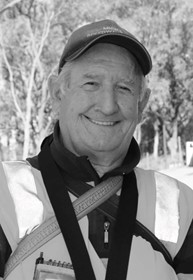 Gates open 5.30pm – racing starts 7.00pm, $5.00 adults U16 free entry, their excellent canteen open all night!
2022/23 CALENDAR – STILL TO COME!
Saturday February 18                     The 2023 Graham Baker Shield
Saturday March 4                             The Sidewinders Teams Meeting
Friday March 17                                The 2023 Bitmead Memorial
Saturday March 18                          The 'Blast from the Past' Meeting
Saturday April 1                                Sidewinders Club Meeting
Saturday April 15                              The ANZAC Meeting
Saturday April 29                              The President's Cup
Weather permitting, Sidewinders MAY add more meetings in April and May
SIDEWINDERS 2023 SILVER HELMET MEETING, RESULTS:
SEMI FINAL 1 
START
| | | |
| --- | --- | --- |
| RED | AMBROSE FRASER | 35 METRES |
| GREEN | RYLEIGH McGREGOR | 40 METRES |
| BLACK | HAYDEN KUCHEL | 50 METRES |
| WHITE | JORDAN HARGREAVES | 60 METRES |
| BLUE | KOBI CANNING | 80 METRES |
SEMI FINAL 2
START
| | | |
| --- | --- | --- |
| BLACK | JACKSON McPHERSON | GATE |
| BLUE | WILLIAM NICOL | 10 METRES |
| RED | BLAKE HOCKING | 30 METRES |
| WHITE | BLAKE SCHLEIN | 45 METRES |
| YELLOW | HAYDEN PASCOE | 60 METRES |
                   RESULTS               1st three in each semi go through to the final.
| | | |
| --- | --- | --- |
| 1ST | RYLEIGH McGREGOR | BLAKE SCHLEIN |
| 2ND | KOBI CANNING | HAYDEN PASCOE |
| 3RD | AMBROSE FRASER | WILLIAM NICOL |
| 4TH | JORDAN HARGREAVES | BLAKE HOCKING |
| 5TH | HAYDEN KUCHEL | JACKSON McPHERSON |
       SILVER HELMET – FINAL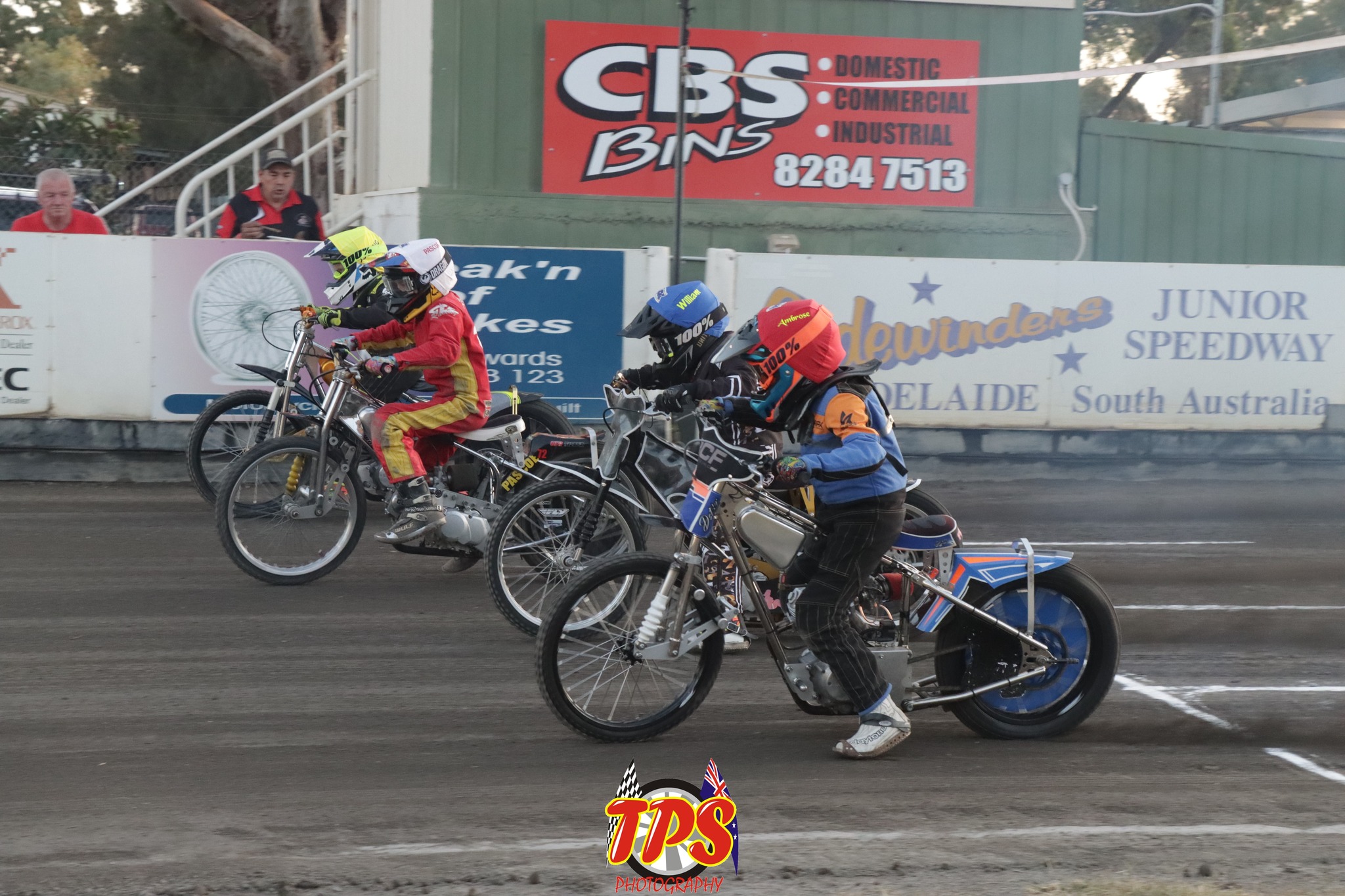 START
| | | |
| --- | --- | --- |
| BLACK | WILLIAM NICOL | GATE |
| WHITE | AMBROSE FRASER | 30 METRES |
| RED | RYLEIGH McGREGOR | 40 METRES |
| YELLOW | BLAKE SCHLEIN | 50 METRES |
| GREEN | HAYDEN PASCOE | 60 METRES |
| BLUE | KOBI CANNING | 80 METRES |
RESULTS                     6 LAPS                                      1:07:37
| | |
| --- | --- |
| 1ST  | BLAKE SCHLEIN |
| 2ND | RYLEIGH McGREGOR |
| 3RD | KOBI CANNING |
| 4TH | AMBROSE FRASER |
| 5TH | HAYDEN PASCOE |
| 6TH | WILLIAM NICOL |