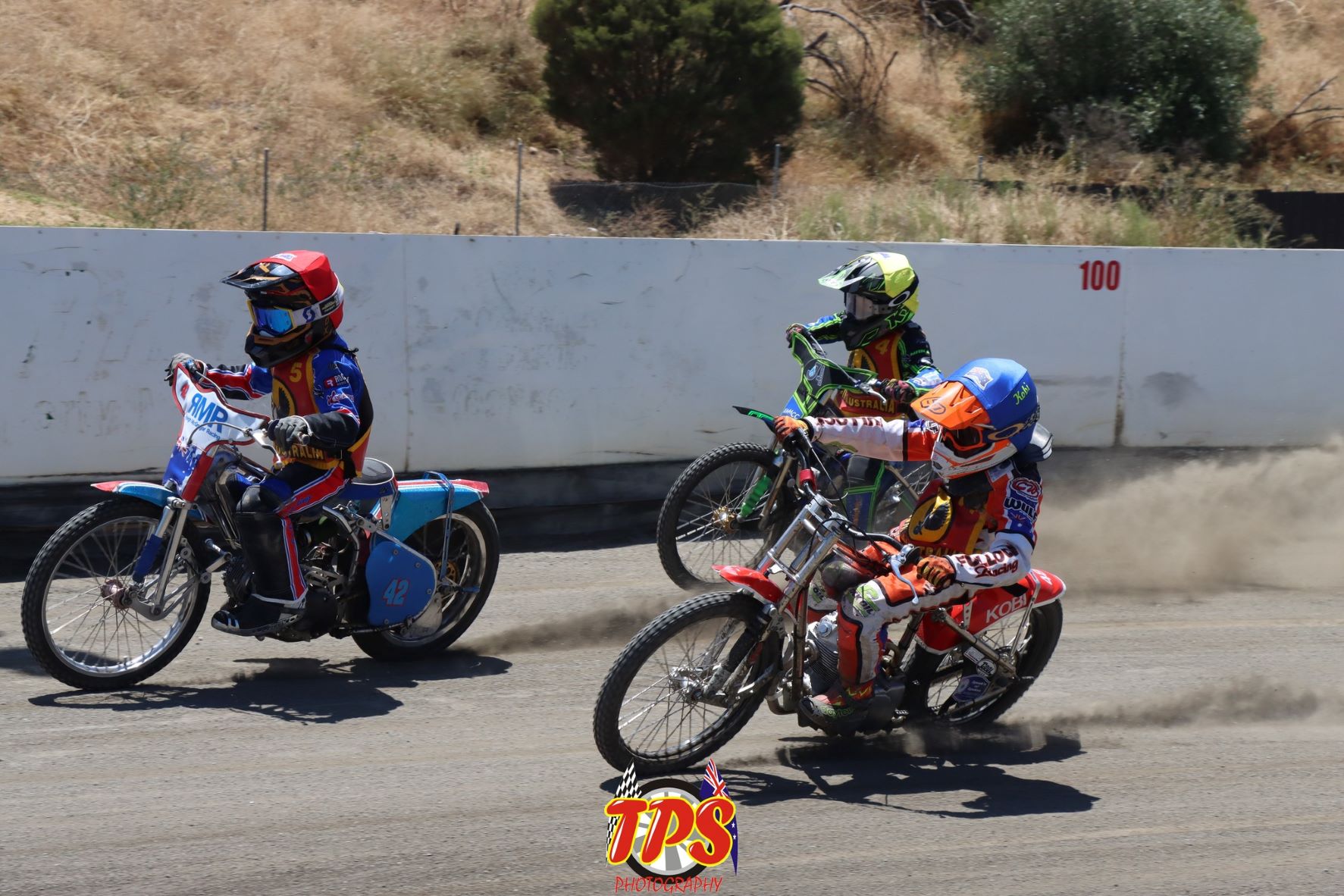 South Australia's fastest U16 125cc Speedway Solo riders came together at Sidewinders U16 Speedway club last weekend to settle once and for all, who will hold the crown for another year. Glorious 24 degree sunshine made a perfect day for both spectators and riders to enjoy extremely fast racing conditions.
The Solo Championships was run last Saturday (3rd December 2022) with 20 heats. The 4th, 5th, 6th and 7th  highest point scorer riders came together in the B final to see who gets the one opportunity to move onto the A's main final. South Australian riders Darcey Timmis, Ryleigh McGregor and Hayden Kuchel fought it out with Victorian Blake Schlein for the final chance, with Darcey Timmis standing on top in the end.
Harry Sadler had an exceptional day looking to take clean sweeps of first places but was pipped to the mark in round 2, finishing in second place for that round to fellow South Australian Kobi Canning. South Australian's dominated the A Main Final of riders with Harry Sadler, Kobi Canning and Darcey Timmis taking on New South Wales rider Cooper Antone. Cooper was determined to upset the apple cart and steal away the South Australian Championship crown but wasn't able to hold off Harry and settled for a second place. Kobi Canning stood proud with the third place green sash and Darcy took home the fourth place white sash.
It was Harry's day overall and is now the back to back South Australia's Under 16 125cc Speedway Solo Champion.  Well done lad!!
Photo credit Terry Scriven Photography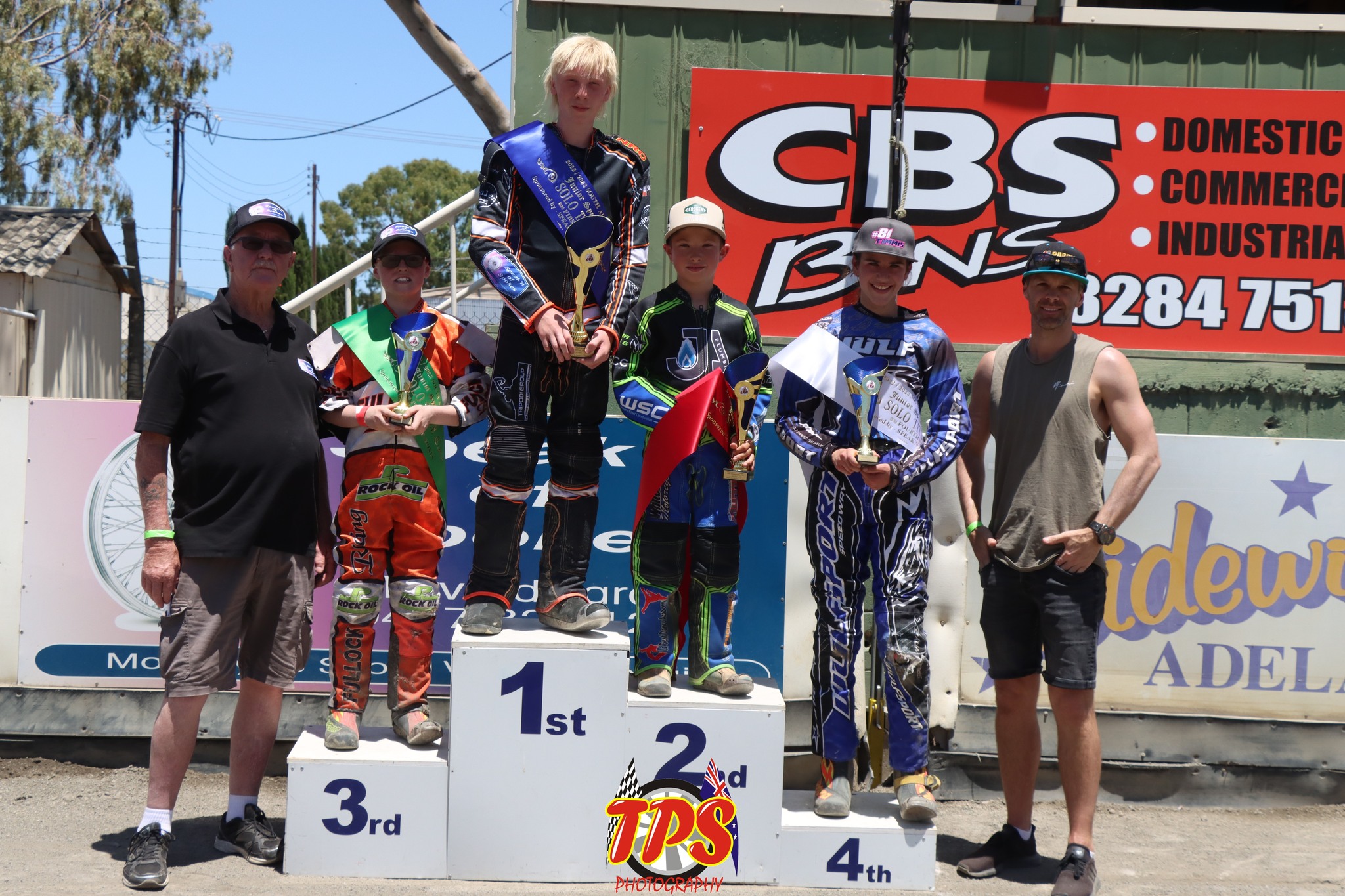 Part 1 photo album: HERE
Part 2 photo album: HERE 
Full Results Below:
| | | | | | | | | | | | |
| --- | --- | --- | --- | --- | --- | --- | --- | --- | --- | --- | --- |
| Number | Name | State | R1 | R2 | R3 | R4 | R5 | TOTAL | SEMI | FINAL | PLACING |
| 8 | Harry Sadler | SA | 3 | 3 | 2 | 3 | 3 | 14 | | 1 | 1 |
| 4 | Cooper Antone | NSW | 3 | 2 | 3 | 3 | 3 | 14 | | 2 | 2 |
| 14 | Kobi Canning | SA | 3 | 2 | 3 | 2 | 2 | 12 | | 3 | 3 |
| 6 | Darcey Timmis | SA | ex | 3 | 3 | 2 | 3 | 11 | 1 | 4 | 4 |
| 7 | Blake Schlein | Vic | 2 | 3 | 2 | 3 | 1 | 11 | 2 | | 5 |
| 5 | Ryleigh McGregor | SA | 1 | 3 | 2 | 3 | ex | 9 | 3 | | 6 |
| 9 | Hayden Kuchel | SA | 3 | 2 | 1 | ex | 3 | 9 | 4 | | 7 |
| 2 | Jordan Hargreaves | SA | 2 | ex | 3 | 2 | 2 | 9 | | | 8 |
| 16 | Lilly Cottrell | Vic | 1 | 0 | 2 | 2 | dnf | 5 | | | 9 |
| 10 | Angus Hume | Vic | 2 | 1 | 0 | ex | 2 | 5 | | | 10 |
| 13 | Ambrose Fraser | Vic | 2 | 1 | 1 | 1 | ex | 5 | | | 11 |
| 3 | Haydon Pascoe | SA | 1 | 2 | 0 | ex | ex | 3 | | | 12 |
| 12 | Blake Hocking | SA | 0 | 1 | 1 | 1 | dns | 3 | | | 13 |
| 15 | William Nicol | SA | 0 | 1 | 0 | 1 | 1 | 3 | | | 14 |
| 11 | Jackson McPherson | SA | 1 | ex | 1 | ex | ex | 2 | | | 15 |
| 1 | Ruby Chapman | SA | 0 | 0 | 0 | 0 | 0 | 0 | | | 16 |