Congratulations to all from South Australia who rode the 2019 Tatts Finke Desert Race, and especially those who conquered the desert – with only around 10 of the 80+ South Aussies who entered not making it to Finke & back – an amazing result!

Need to especially congratulate Tom Jones, who finished as the top South Aussie in a great 9th outright out of the 600+ starters, and to top it off Tom also won his class, the Masters 35-39 Years class. (pictured below)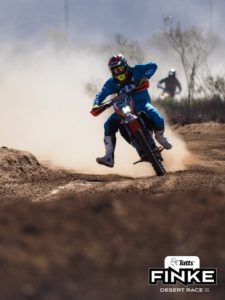 Kyle Pfitzner was the only other South Aussie in the top 20th, in 13th outright, and he also came home with a class win – the 251cc & Above 2 Stroke class.
Only other South Aussie on a podium was quad rider, Lachlan Bailey who finished 2nd in the Up to 40 Years class.
Well done and congratulations to Tom, Kyle & Lachlan – and for the fiull list of finishers, head here for a scroll through; www.finkedesertrace.com.au/2019-bike-results   
Shout out also to expat South Aussie, Alex Long (below on bike #487), who led the SA female charge, and after starting around 500th, picked up a heap of placings each way to finish 296th – and make it 5 finishes from 5 starts!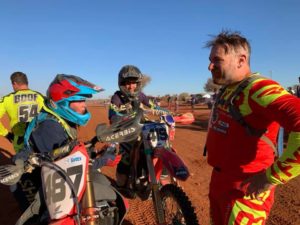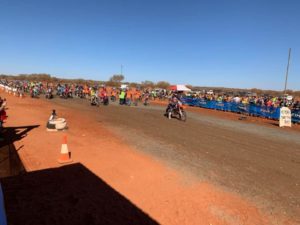 Bad luck to SA's top chances in Kent Collins and Daniel Banks who both didn't make it back from Finke, with Kent well inside the top 10 after day 1 and Daniel in the top 20!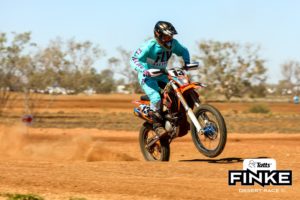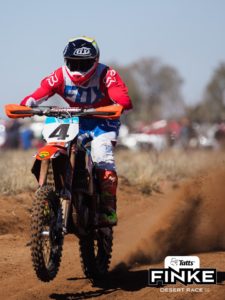 Daniel Banks (#13) and Kent Collins during the prologue
With thanks to Tatts Finke Desert Race media & Lynn Long for the pics