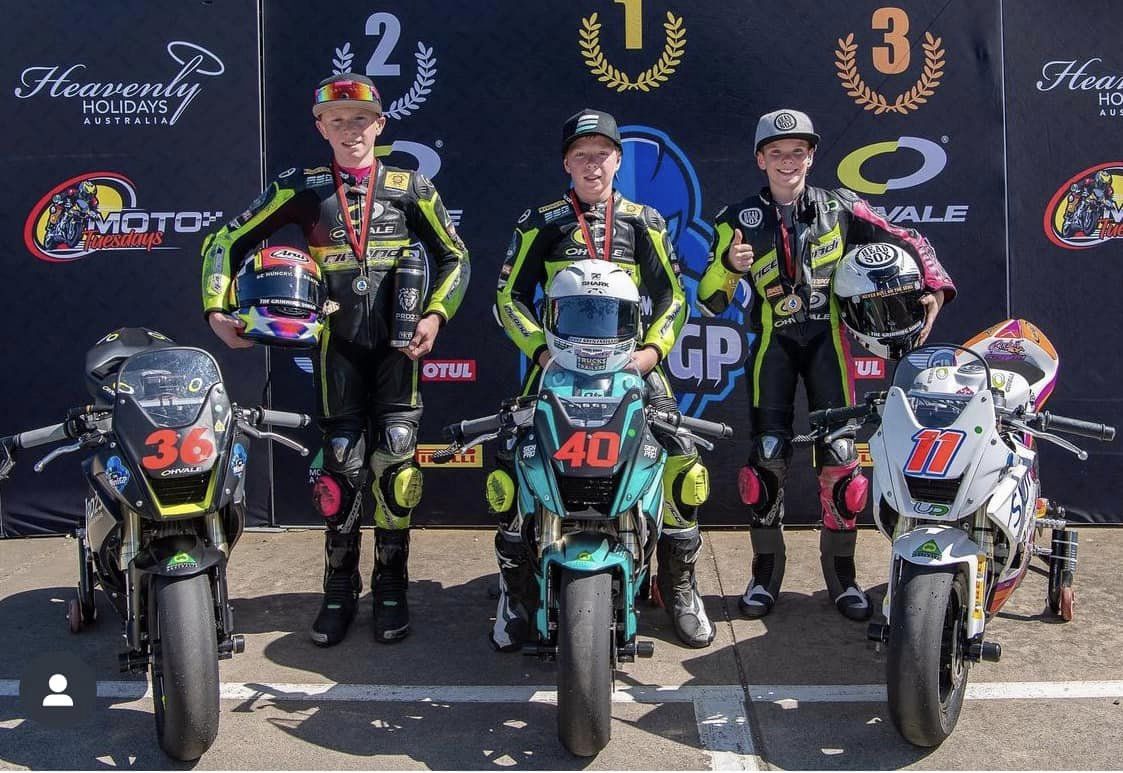 The FIM Mini GP Australia Series kicked off its inaugural year in 2022 and is shaping up to be a crucial tool for the selected junior riders to pursue their dreams of racing at the highest level in the Moto GP. In 2022, the competition bar was set extremely high, but as time would tell, that was just a taste of the racing that would take it to the next level in 2023. This year saw up to 14 talented budding Australian riders and one Kiwi joining the circuit, all with their sights set on the top prize and taking that crucial next step in their racing careers. Best of all, two of our South Aussies joined the journey, with one of our future legends claiming the Series top honours in the 160cc class for 2023.
From the get-go, Rikki Henry put his head down and showed what he was made of, making a regular appearance on the podium, even at times sharing it with fellow South Aussie Judd Plaisted and even taking the top spot more than once this series.
Starting off with a 5th place finish in race one, round one, Rikki turned up the talent to fight through the pack and bring home a second-place finish in race two to start his series in second place overall. Taking to the track in Newcastle, NSW, the stars started to align for Henry. Taking control of the race, he went on to hold off Queenslanders Hunter Corney and Jake Paige throughout both races to secure an epic first-place finish for both races and took over the Series overall lead for the 160cc class.
Round three saw the series head to Ipswich, QLD, with our South Aussies representing at the highest level. Rikki continued to ride extremely competitively, unfortunately missing out on the podium in race one but coming back to charge through the field (including passing 2 riders on the last lap) to share the podium in second place for an extremely special moment with Judd Plaisted, who had been on fire all week in first.
Above Images Rikki Henry Racing #36
Returning home to Adelaide for the second-to-last round at the Monarto Go Kart Club Track, Judd Plaisted pulled together a clean weekend, taking the overall round wins with firsts in both races. Putting Plaisted and Henry in good company, Archie Schmidt joined the round as a wildcard entry and proved to be good company to add a twist to the already formed on-track rivalries of the Championship. Putting down some exceptionally strong riding and showing nothing but consistency at the front of the pack with countless battles happening between himself, Plaisted, Paige, and Schmidt, Rikki would walk away from the weekend with second place overall and a 12-point lead going into the MiniGP 160 series finals at Oakleigh, VIC.
Looking cool, calm, and collected, Rikki let his riding do all the talking and made short work of taking the pole by almost half a second in front of Hunter Corney. Tensions were tight at the front for race one, with Rikki narrowly missing the top position behind Cooper Horne by just 0.164 seconds. Judd Plaisted would round out the podium in third place, posting a new race lap record of 44.784 seconds. Henry then went on to win the second race ahead of Jake Paige by 0.546 seconds. This would not only be his second-round win but also secured the series win with a 24-point lead over Jake Paige.
Judd Plaisted would round out the FIM Mini GP SA campaign with a 4th place finish in round five and 4th place in the Series overall.
Above Images Judd Plaisted by RbMotoLens – Rob Mott Photography   
After an extremely well-earned Series win, Rikki has earned a life-changing opportunity to head over and race in the MiniGP World Series at the Circuit Ricardo Tormo Valencia, against the world's best in November.
Rikki was quoted as saying, "I've got a lot of mixed emotions right now," the 14-year-old said. "I'm just so happy to have won the series, and now I'm even more excited, knowing I get to go to Valencia to race against the world's best in November. It's something I'll remember for a long time, that's for sure."
Some big things ahead in November.
Above Images Rikki Henry by RbMotoLens – Rob Mott Photography