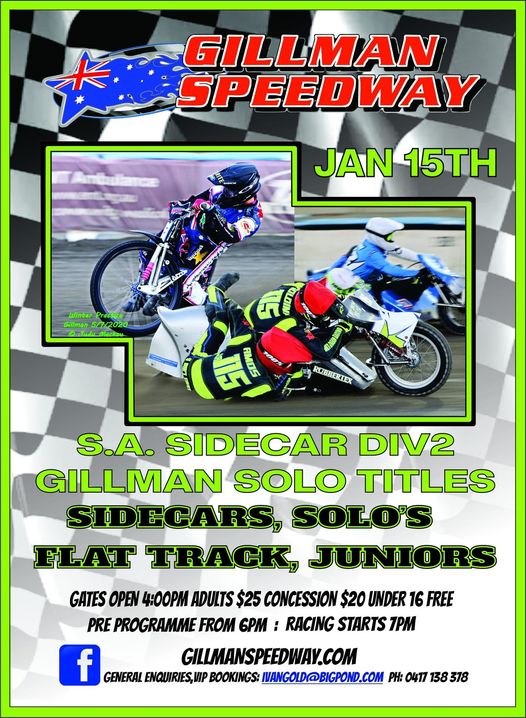 SOUTH AUSTRALIAN DIV 2 SIDECAR CHAMPIONSHIP – THIS SATURDAY JANUARY 15TH @ GILLMAN SPEEDWAY
AND; well supported by the Gillman Speedway Solo Championship.
ALSO; Flat track solos and SA's awesome junior 'stars of the future'!
Gate Open; 4.00pm, with FREE Parking.
Tapes up; Juniors from 6.00pm and Seniors from 7.00pm
To get in; Adults $25.00 Concession $20.00 Children U/16 FREE
Food & drinks; Full canteen & bar service all night, plus the Gillman Souvenir Shop will be open.
ALSO; buy a Programme for only $5.00, with a chance to win 1 of 2 $50.00 fuel vouchers.
COVID contact tracing at entry gates
MASKS to be worn whilst lining up and being served at gate, sign-in, bar, canteen and souvenirs.
NO MASK NO SERVICE (For your protection and our workers)
Get along to Gillman Speedway this Saturday night for another exciting chapter in the history of this great venue, with the crowning of the SA Div 2 Sidecar Championship, as well as the Gillman Solo Championship.
With a warm night forecast, grab the family and get down there early to have a wander through the pits, and then head to a prime viewing area to see some of SA's awesome junior talent on display from 6.00pm – and including 2021 SA Champion, Harry Sadler, along with fellow MSA Rising Star nominee, Ashley Jansen-Batchelor – and the next generation coming through like Kobi Channing and Riley Stout – you won't regret getting there early to see these future stars!
Then head to the brilliant canteen for a feed before settling in for the main event(s) – and who to watch – well, here we go!
SA Div 2 Sidecar Champs; Previous results from this season means there could be up to 5 teams, and maybe more, who could come out on top – but whoever wins, it will mean that they will have had to have ridden a great meeting to do it – so look to Kym Menadue / Shane Dolan, Aaron Silvy / Jaron Silvy, Thomas Adams / Jaxon Rayner, Brian Silvy / Damian Egan and Mitchell Spear / Glen Zaworski to lead the way on the night. Going to be such a good night's racing!
In the Gillman Solo Championship – you would think Internationals Liam May & Brayden McGuiness would lead the way, but with a heap of interstaters present, it should go down to a great final to end a close night's racing!
Photo credits to the brilliant Judy Mackay – with thanks!
South Australian Div 2 Sidecar Championship Riders;
Aaron Silvy / Jaron Silvy
Paul Snadden / Greg Black
Adam Pascoe / Tim Wegner
Wayne Lethbridge / Grant Simounds
Brian Silvy / Damian Egan
Thomas Adams / Jaxon Rayner
Mitchell Spear / Glen Zaworski
Dean Hobbs / Daniel Low
Matt Crundwell / Jamie Crundwell
Danial Puddy / Byron Mordaunt
Tim Bichard / Brendan Marsh
Kym Menadue / Shane Dolan
Photo credits to the brilliant Judy Mackay – with thanks!
Gillman Solo Championship Riders;
Blake Ridley
Liam May
Dayle Wood (Vic)
Teagan Pedler
Declan Knowles (Vic)
Jake Turner (NZ)
Steven Graetz
Brayden McGuinness
Shaun Sampson
Patrick Hamilton (Vic)
Michael West (NSW)
Jackson Milner (Vic)
Jack Morrison (Vic)
Aden Clare (NSW)

And don't forget also – Make Volunteering your 2022 Resolution – every Club will need a hand at some point during the year, so give just one day this year – cook a BBQ, serve in the canteen, help at sign on, pick up a flag point, help prep the track and the venue the day before – all it does at the end of the day, is benefit you and your kids!