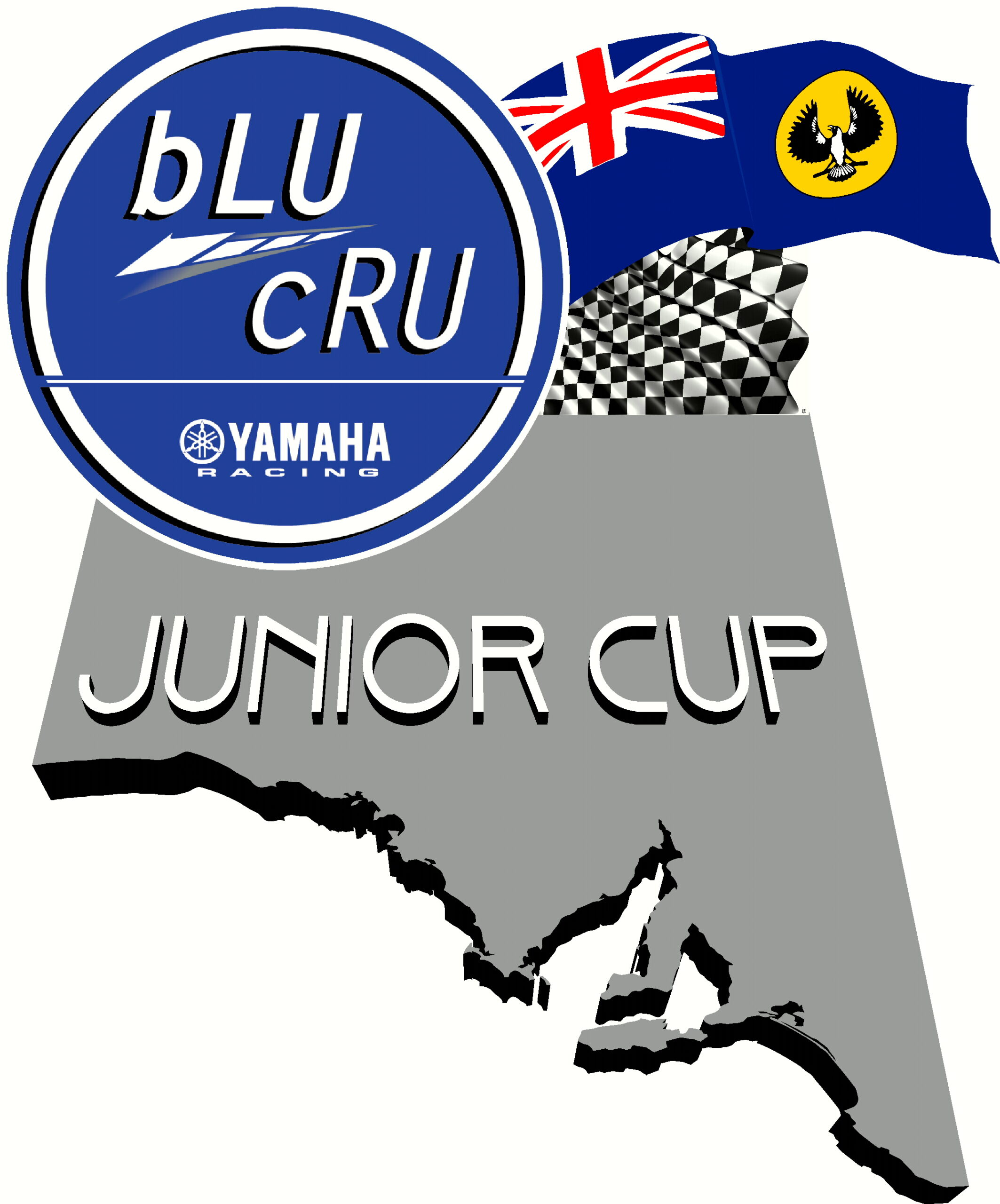 SOUTH AUSTRALIA'S 'bLU cRU SA JUNIOR CUP', LAUNCHING A BRAND NEW SERIES FOR JUNIOR ROAD RACE IN 2022!
In recent years Motorcycling Australia have created a junior road racing program, called the Oceania Junior Cup, where riders compete at selected Australian Superbike Championship (ASBK) rounds alongside the current stars of the sport here in Australia.
Motorcycling SA, in conjunction with Motorcycling Australia, and driven by the Road Race SA Sports Manager, Kym Bolto, and his dedicated Road Race Panel, are excited to announce that South Australia is set to launch of a brand new development series for junior road racing here in South Australia, the bLU cRU SA Junior Cup.

To run alongside the Junior Class of the South Australian Road Race Championships, this new Series will offer the chance for South Australian juniors to race in a similar style series to the national model, but, also have a clear pathway into that National series, the Oceania Junior Cup.
Motorcycling SA have secured 10 Yamaha R15 V2 150cc race bikes, that will be made available each year to 10 lucky junior riders aged 11-U16 who nominate and are then selected – and may unearth a talented South Australian rider, girl or boy, that may otherwise go unnoticed as there is no other opportunity like this.
In looking to find the next Ken Blake, Davo Johnson or Levi Day the bLU cRU SA Junior Cup here in South Australia aims to feed into the Oceania Junior Cup Academy, which has seen 4 riders go on to secure International rides in 2021, three in the Asia Talent Cup and one in the Red Bull Rookies Cup, the premier feeder series to world Grand Prix racing and MotoGP.
Mr Brenton Matters, President of Motorcycling SA is excited about the future direction of junior road race in SA, stating that, "This junior development series by Motorcycling SA will give diverse opportunities for junior racers and with the cooperation between Motorcycling Australia & Motorcycling SA, along with our fantastic sponsors, I am sure the series will be a great success. I want to thank Kym for his passion and drive in getting this series to fruition and Motorcycling Australia for their continued support."
A major part of this Series will be to create a very welcoming and inclusive environment for all, which includes getting more female riders involved in our sport and more indigenous and multicultural riders, and appeal to riders in all of the MSA disciplines, to encourage cross discipline riding.
Included in the package being offered to prospective riders is the following.
4 full race meetings per year, comprising practice, qualifying and 3 races over the 3 day meeting, so a total of 12 separate races for the year.
1 race bike, fully prepared and ready to race at each of these meetings, including a mechanic on hand for all.
Riding gear (still to be confirmed) – helmet, leathers, boots, gloves and back protector at a hugely reduced price, with the leathers fully decked out in SA colours, and complete with all sponsor logos.
1 three (3) day coaching weekend at Mount Gambier's Mac Park Circuit, with Levi Day's 'On Track Rider Training' coaching crew, with full details of what will be included still to be confirmed.
2 other separate coaching days during the year to be held at a track to be decided on.
A number of other benefits, including media training and rider presentation lessons.
It is a huge opportunity for junior South Australian riders, and those who have aspirations of heading overseas to chase International success, and this inaugural Series is looking for talented riders from across ALL disciplines of the sport, not just road racing!
Motorcycling Australia CEO, Mr Peter Doyle is also excited about this exciting new avenue for junior riders to chase their dreams, "This a great initiative from Motorcycling South Australia and it creates the pathway to the Oceania Junior Cup and beyond from state level. Young riders will now have the opportunity to prepare themselves at state level and then move up to National level when they are ready. Having a state series with low cost access where all riders are competing on equal equipment will give all young riders the opportunity to not only show their skills, but also allow them to develop in a lower pressure environment before trying to step up to the next level."
Motorcycling SA have asked for nominations of riders from every Sports Manager, of the most talented junior racers aged 11 to under 16 from Road Race, Dirt Track, Speedway, Motocross, Trial and Enduro, with some outstanding names having already been put up for consideration.
Of course, there may be others, and MSA would like to hear from anyone keen to be considered for a place in the squad, and to be a part of this amazing Series.
The approximate cost to be a part of the series will be $2500.00, to lease the fully race prepared Factory Yamaha R15  V2 150cc race bike for a 4 round championship, that will be held in conjunction with the South Australian Road Race Championships, and may also consist of a 'stand-alone' round at the Monarto Go-Kart Circuit.
For more information, including the full details of all costs involved, and to register your interest, please contact the Motorcycling SA Road Race Sports Manager, Mr Kym Bolto; roadrace@motorcyclingsa.org.au.
Looking forward to seeing his vision become a reality, Kym adds, "I'd like to thank our great sponsors for sharing our vision and enabling us to put together a race series that creates a pathway for our junior riders to ride in the OJC National Series, valued at $8500.00. We look forward to seeing the talented juniors, from all disciplines, who nominate for a place in this amazing series."
Think the Series partners are excited about this, well, John Redding from Yamaha YRD stated that they jumped at the chance to be a part of this exciting new Series from day 1, adding, "YRD support the OJC National Series and the Western Australian Junior Series. When YRD heard of South Australia developing their own junior program we were more than happy to show our support and be a part of that series also, and look forward to seeing what brilliant talent SA uncovers in coming years."
What has been truly amazing for a new Series, one specifically orientated to junior development, is the amount of industry support, already signed on to support the Series, with some locked into multiyear partnerships. Here we proudly announce that the 2022 bLU cRU SA Junior Cup (South Australia) partners are;
Yamaha
bLU cRU
YRD
Pirelli
Motul
RK Chains
Ricondi Leathers
Adelaide Motorcycle Recovery
On Track Rider Training, with Levi Day
The Grinning Dingo Australia
THC Photography
AMX Superstores
Storage Matters
Webb Plastics
Motionlogics
Underground Designs
Supersport Trackbikes
And, Motorcycling South Australia & Motorcycling Australia
AND: AMX Superstores, who have come on board to supply $200.00 worth of fuel, per bike (or instore value), with the Adelaide AMX Superstores Store Manager, Beckz Vizzarri, super keen, "AMX Superstores is proud to be supporting and protecting our up and coming road racers in the 2022 Road Racing bLU cRU SA Junior Cup. For all your parts and accessories needs, head down and meet the team at AMX Superstores Blair Athol or shop online at www.amx.com.au – we keep you riding!" And Beckz has also asked that the following tagline be used; "@AMXSuperstores – keeping South Australia's junior road racers fuelled!" 
And finally, just to show the National support for this new Series, Kym Bolto would also like to put out a shout out to Ricky Rice Racing, who has been able to source 2 Come & Try Bikes. Says Kym, "Ricky went out of his way to help with them and store them at his property for a few weeks until transport could be arranged. Huge thanks mate!"