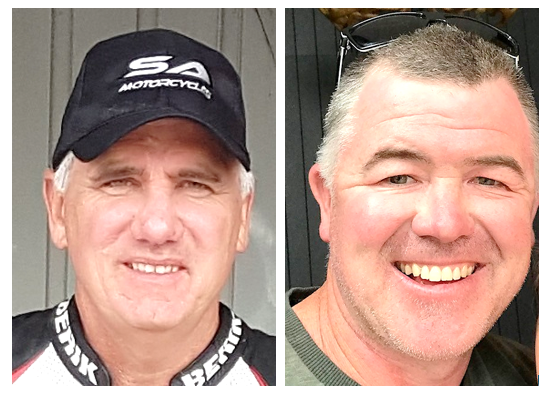 SPORTS MANAGERS APPOINTED FOR 2021 – COMPLETE WITH 2 BRAND NEW FACES!
2021 will see the disciplines of Road Race and Motocross be led by a couple of brand new faces, with Kym Bolto and Clint Gow-Smith appointed to the positions by the Motorcycling SA Board. They replace Alessandro Malatesta (RR), who held the position for a number of years, and Robyn Kitchen (MX), who held the position in 2020.
Both, Kym and Clint, briefly outlined their plans for their chosen discipline and it looks like there are great times ahead for both disciplines, with both looking to get their disciplines up and running early into 2021!
So, in an exciting end to 2020, and start to 2021, December saw the final Sports Manager's meeting for 2020 take place, with all discipline Sports Managers appointments confirmed for 2021, with the Motorcycling SA President, Brenton Matters, and joined by Board member, Mike Hampton, confirming the Sports Manager appointments and to give an overview of how 2021 will proceed.
Brenton firstly welcomed everyone, especially Kym and Clint as the new appointees and confirmed the 2021 appointments for 2021, meaning the Motorcycling SA Sports Managers for 2021 will be;
Dirt Track             Ty Lynch                             
Enduro                 Wes Haydon             
Motocross          Clint Gow-Smith              
Reliability Trial   John Songailo                    
Road Race           Kym Bolto                           
Speedway           Adam Possingham          
Trial                        Andrew Warnest

The following positions remain vacant;
Classic Motocross
Sidecar-cross & Quads
Brenton then gave a report on what the MSA Board expect from the Sports Managers for 2021, with members of the MSA Board will also sit in on discipline meetings, but as an observer only, to see how each SMG works, and also to get more of an idea of what is needed for that discipline.
In closing, Brenton and Mike made the following comments;
Brenton; Again, welcome to Kym & Clint, thank you for nominating, and good luck with the positions, and know that you have the support of the MSA Board and MSA Office, with Andrew Warnest as your point of call in the office as the SM liaison.
Mike; I'd just like to reiterate what Brenton just said, but also that you all have important roles in the sport, and in taking the sport forward, and especially motocross which really needs to become what it can be, and I hope it all runs smoothly for you all.