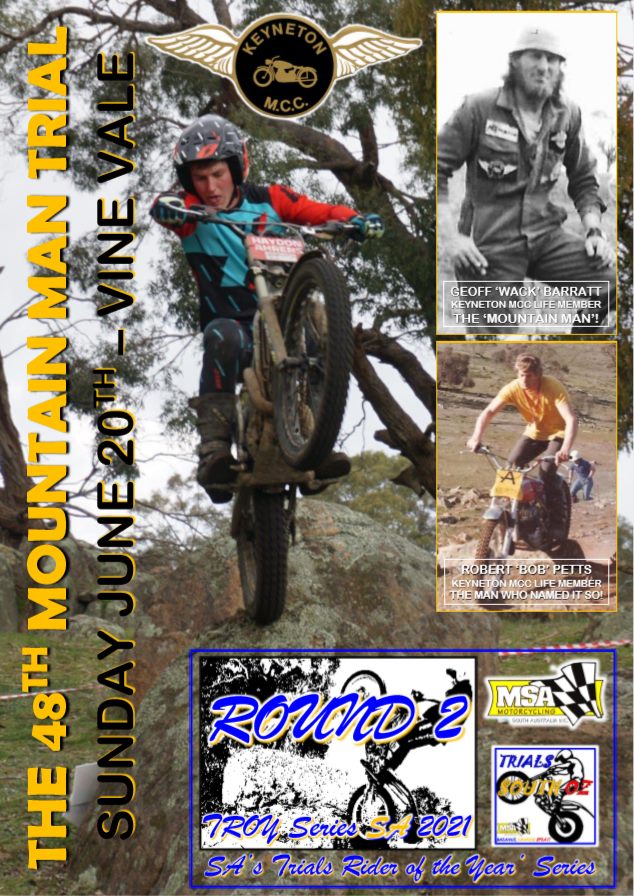 THE 48TH MOUNTAIN MAN TRIAL WAS ONE FOR THE AGES!
The Keyneton MCC ran their Mountain Man Trial for the 48th time yesterday (Sunday 20th June) at Vine Vale in the Barossa, which was also round 2 of TROY Series SA 2021 (Trials SA's Trials Rider Of the Year series), and it was run under blue skies after pre-event rain made for prime conditions at the venue.
Organised and run by the team of Sofie Kraft and Haydon Ahrens, with great support from Dee & Brad Hunter, the event saw a trial in SA hit the 50 entry mark for the first time in 2 years, and with the field made up of 18 juniors, as well as a total of 8 rookies and 3 brand newbies, it's great for the future of the discipline here in SA to see numbers once again on the rise, with a total of 74 riders and passengers having so far started an event in 2021 (just need them to all ride the same event now!)!
Also great to see many spectators having a quiet wander amongst the sections and gum trees, as they took advantage of the great catering from the Masters of Wine & Just Us Girls (JUGS) Mighty River Run teams, with all proceeds on the day going to Novita!
PICS BELOW:
Great weather at a great property!
Trials once again proving itself to be the family sport, as young Oliver Schultz joined older brother Isaac and dad, Chris for his first ever event – and they all rode together all day!!
3 time Aussie Champion, Haydon Barwick in Trial 1 action.
Kieran Hill & Martin Whitaker (middle pics) need a 3 section ride off to be separated in Trial 5.
The Mighty River Run crews cooked up a storm all day! 
Here are the results from the day;

TROY Series SA 2021 – points table after round 2 of the 5 round series.

2021 Star Awards – points table the 4th event of season 2021.

NEXT EVENT: The Classic Trial, Sunday July 4th @ Tungkillo – ENTRIES ARE OPEN – followed by round 3 of TROY Series SA 2021, The Max Graetz Trial on July 25th, and also at Tungkillo, but in a different location!