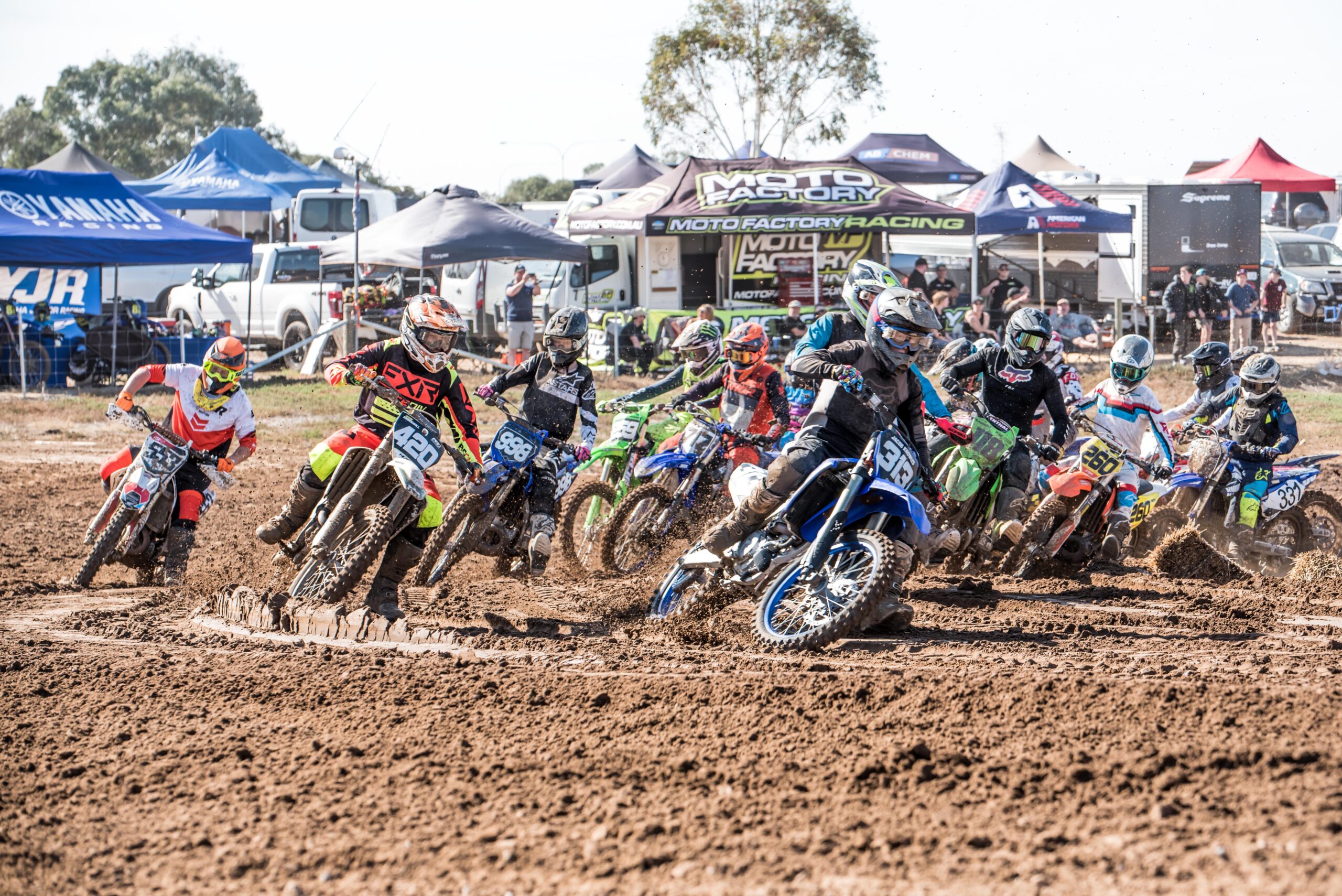 What a fantastic spectacle for our sport here in SA with Gillman hosting the first round of the Eagle Trailers Campers and Caravans 2022 South Australian Motocross Championship, & presented by AMX Superstores.
With increasing interest from our interstate rivals, the entry list was not only increased with the number of local entries, but also with quality competitors from over borders, and across all classes, resulting in positive growth on our 2021 entries for Round 1.
With the long weekend in memory of our ANZAC troopers who sacrificed so much for our freedom, their attitudes and comraderies were evident amongst our junior riders who got first use of the immaculately prepared track from the MRA club.
All classes had great entry numbers and the racing was fierce but fair and in the spirit of the ANZACS, the sportsmanship was second to none across the two days.
Our youngest competitive group the 7-U9 50cc showed how healthy our sport is looking with 19 entries, 4 of those girls which shows the increasing % females taking to the dirt amongst the boys in this grass roots level.
This strength and growth of female riders in the sport is strongly supported by the 13 girls that also competed in the two classes, which are, once again in 2022, proudly sponsored by Titanium Security Australia.
Both, the 85cc 2 str/150cc 4st and 125cc 2st/250cc 4 str classes were held on Saturday. The talent that is emerging is super exciting with Jessica Bennet dominating the 85/150cc class, and rising gun, Emily Lambert showing her dominance in the 125/250cc class.
The split group of 65cc classes (7-9 & 10-U12) again ticked a positive as a lead indicator of our youngsters with impressive entries with 24 in the 7-9yrs and 12 in the 10-12 years, which is also up on last year's numbers.
The 12-U16 85cc BW class is always a stacked class and this year's depth of talent is as healthy as I can remember with a host of riders capable of winning on any given day. The Victorian contingent have added some real depth and class to the junior classes and the SA boys didn't have it all their own way.
Much improved Kye Little (GASGAS) showed incredible poise and maturity as he looks to be a big improver in this class this year, but it was young gun, Austin Boyd (Yamaha), who was a standout going 1-1-1- with Little in second. The final podium position would be between the Yamaha Junior Racing Team riders Ryder Woodrow (SA) & Jobe Dunne (Vic), and as his name would suggest, it was Dunne that got it done, securing 3rd place on the day.
Local Tomi Doble showed his adaptable skills across 3 different disciplines with some really solid motos in round 1, all the while juggling his bLU cRU SA Junior Cup commitments, within the road race discipline, combined with his motocross and enduro campaigns.
A very worthy mention of sportsmanship was Johnny Teixeira on board his 85cc in this class sacrificed his own race and stopped to assist lifting a bike off a fallen rider which again displayed a great ANZAC spirit of sacrifice and looking after your mates and young Johnny needs to be applauded for his efforts. Well done.
Our premier junior class on Saturday was the 13-U16 125cc class where YJR's Wil Carpenter continues to goes from strength to strength with a 1-1-2 finish for 1st overall. Thomas Lambert continues to impress and looks a genuine contender after a confidence boosting victory at the recent Prince of the Gulf over the Easter Long Weekend. Victorian fast charger Kayden Strode never gives up and he proudly put GASGAS on the podium as this manufactory continues to get noticed with impressive results around the country.
Ollie Gear again showed his raw ability on 2 wheels with an impressive 4th overall for the day. Ollie, and brother Davey have their eyes on the Australian Off Road Championships, where both boys are on the podium in their classes after 4 of 12 rounds. Incredibly talented across disciplines you can never right these kids off, so don't be surprised to see them lift themselves onto the top step of the podium before this Championship is over.
The fantastic display of bar to bar racing, as well as the off track sportsmanship should be the talk of the town as these young men and women's attitude towards each other, and the event officials was first class and set the standard for the rest of the Championship.
"I could not be prouder of how all parents and riders conducted themselves over the weekend. We have had some issues in years gone by, and of course emotions can run high at times, but the conduct and behavior over the weekend was first class, complete with a great family and inclusive environment. It was a great spectacle for those who attended as we seek to attract more families to our great discipline of the sport. I really feel that SA motocross is heading in the right direction" quoted the SAMX Sports Manager Clint Gow-Smith.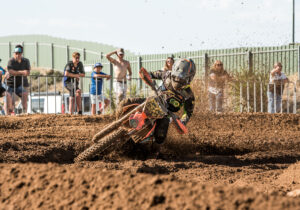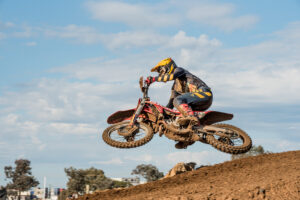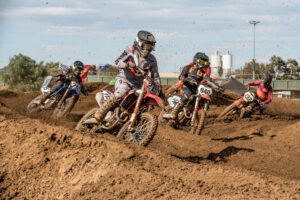 Sunday 24th April SENIOR DAY
With the National Pro MX Championship coming to town for round 4 on May 29, a handful of the Australian Championship regulars from interstate would use this round to get some track time amongst SA's best.
Our premier PRO MX1 Class was stacked with household names and the SA charge was led by none other than Brett Metcalfe who has his eyes set on far greater things. As he peeled of super consistent lap times to take the overall, with little resistance from his competition, and it is clear the 'old guy' in this class has some unfinished business come May 29 for round 4 of the Pro MX at the same venue.
It was great to see Hayden Melross for the 2nd year in a row and his speed increased throughout the day as he comes back from injury. Liam Andrews on board the Honda in 2022 after an impressive junior career, including representing Australia, showed his fitness is no worries competing in both, the both MX1 and MX2 classes and showed great consistency and thoroughly enjoyed the track at Gillman in his post-race interview .
The PRO MX2 class really struggled for numbers in 2021 but for 2022 has been injected with handful of our very best juniors from last year, stepping up for their first senior hit out at SA Championship level.
Pitman, Carpenter, Loffler and Co. looked right at home amongst a stacked field including Alex Larwood (WBR Yamaha), Blake Fox (GASGAS) and Campbell Williams (Honda Racing), who are all residing in Victoria and racing professionally. Larwood showed why he is the most exciting thing to come out of SA since the Metcalfe Brothers some 20 years ago. He put the field to the sword and, like Metcalfe in MX1, these 2 South Aussies want nothing more than to go 1-1 in both classes in round 4 of the Pro MX on their home track on May 29th at Gilman.
However, Kai Newbold (Banks KTM) was out the gate and his trademark holeshots that saw him lead his school buddy from Kadina, Larwood, around for the first lap or two. Newbold, even though he was eventually passed by the interstate riders, certainly put his fellow South Aussies on notice that he is serious about a record 4th straight Championship in the PRO MX2 class.
With Mitchell Norris (GASGAS) riding in both PRO classes, MX1 and MX2 it will be interesting to see if Norris can channel all that experience and seriously challenge the #7 KTM rider in the remaining 3 rounds.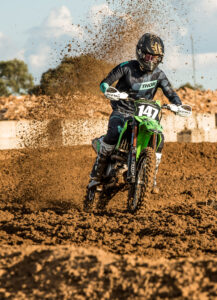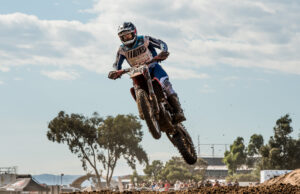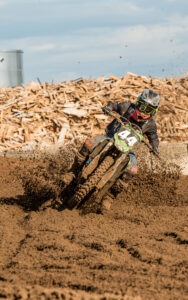 In the premier (125/250cc) junior class that is now a feature on the Sunday programme, it was again the silky skills and speed of Wil Carpenter that dominated on the 4stroke Yamaha. Wil looks right at home on this machine and when interviewed post-race, Wil put his weekend's success down to "I am just really enjoying myself on and off the bike this year" and it certainly is reflective in his results.
Billy Cameron (Vic KTM) has featured throughout his juniors at various rounds of the SAMX and always comes out charging. Billy showed great speed but it was his Victorian counterpart that just does not know how to give up, Kayden Strode, doing enough to secure 2nd overall in front of Cameron. The talent in this class runs deep and keep an eye out for Lambert and Boyd at round 2 as they can win on any given day also.
The Butler's Mechanical Services sponsored Women All-Powers Class featured 2 more interstate riders, Taylah McCutcheon and Maddy Healey, coming to get some track time before the Women's Australian Championship (WMX) heads to the Gillman MX complex for round 2 of their Championship, alongside the PRO MX Nationals on May 29.
With a class of 11 starters the interstate women showed that growing up racing with all the boys has done them no end of good, as both women's speed and aggression was reflected in their laps times which rivalled many of the MX2 and Expert Class riders.
Locally it was great to see #5 Amy Bartsch return to our series after traveling in 2021. Promising junior and 2021 MSA Rising Star finalist for MX, Emma Haylock (Husqvarna) showed she was more than comfortable in her first senior Championship with a really gritty days racing that included a nasty crash and some mechanical issues.
The Expert All-Powers Class also seen a handful of juniors enter their first senior Championship on a track that was prepared and continued to break up a lot more than the usual junior tracks these guys are used to. It was the experience of the older riders in this class that would come to the fore in round 1 with Sparrow, Dent and Walker looking the most comfortable throughout the day and taking the 3 podium positions in that order.
Emerging riders Spurling, Pagon, Rochow and Co. will learn from round 1 and look to shake this class up a bit as we head to Renmark where the red sand and whoops may suit some riders coming across from the Enduro scene.
Ollie Pitchford continues to impress in his break out year in the Clubman. Ollie finished off his junior career with solid results in the Enduro Championships and his MX skills have really gone to another level in 2022, surprising even himself with a dominating performance going 1-1-1 on Sunday.
Dilks, Bowles, Wells and Martin look set to have some awesome battles and without the 2021 Champion Averay competing at round 1 this class is wide open.
The 35-44 Years Veterans class was set to be a lot closer with such names as Carroll ,Metcalfe and the 2021 Experts champion, Bradley Ross clicking over to 35 years young, but illness would remove Carroll and unfortunately the long awaited return to this class from Shane Metcalfe was cut short with his late withdrawal.
Ross dominated from the get go showing that age is nothing but a number taking the overall in front of Hollis and Johnston.
In the Masters 45+ Veterans, the MRA track guru himself, Darren Averay (Honda) looks very keen to defend his 2021 Championship in this class with another impressive ride on his home deck to take the overall in front of Ian Haylock and Humphries.
Round 2 of the Eagle Trailers, Campers & Caravans 2022 South Australian Motocross Championships, presented by AMX Superstores is coming up fast, in Renmark on May 21 and 22 at the Riverland Junior Motocross Club. Registration is open now, and closes at midnight on May 16, through Ridernet.
Photos courtesy of Eric McConnochie (@ericmcconnochie)