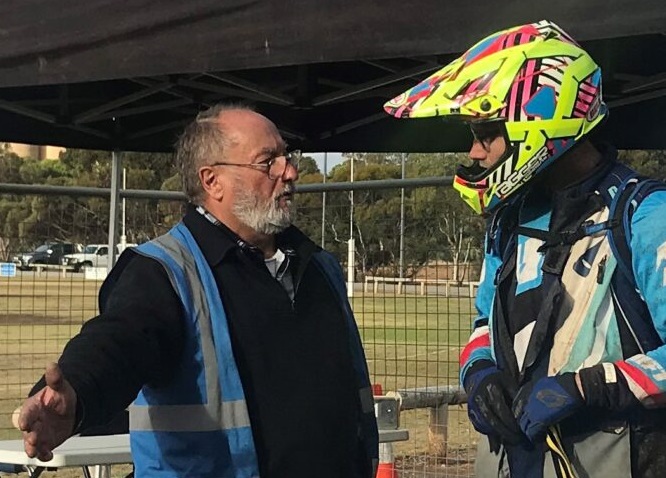 THE LAST OF THE ORIGINALS – JOHN SONGAILO TO SIGN OFF AS RELIABILITY TRIAL SPORTS MANAGER
After about 13 years in the position, John Songailo has made the decision to step down as the Reliability Trials Sports Manager, a year earlier then expected, as his current term only expires at the end of 2022.
As such, Motorcycling SA has immediately opened nominations for the position, with the nominations to remain open until 5.00pm, Friday January 21st 2022. 
After speaking to John, even though he has enjoyed his time in the position and did give the position some serious thought about whether or not to carry on, he felt that the time was right to step down, and also that it was the time for some new blood to come in with new ideas and take the discipline to the next level.
Motorcycling SA would like to express its thanks to John for holding the position for so many years, and he definitely leaves the discipline in a strong position, with 7 great events making for a season long SA Championship, that certainly caters for all riders and machines, and by its very nature, is also our most unique discipline, which of course, features SA's famous 24 Hour Trial each July.
With John's current committee set-up, he is happy to stay on until the committee's Annual General Meeting that will be held in February, but as per the Sports Manager's guidelines, it will be up to the new Sports Manager as to how he/she will run the discipline, whilst under the guidelines as set down by Motorcycling SA.
In the short term, this will be a one (1) year appointment, in that the successful nominee will complete the current two (2) year term (2021/22) that John was in the middle of, and after that they will be able to re-nominate if they wish for a full two (2) term of 2023/24.
OTHER SPORTS MANAGER NOMINATIONS STILL OPEN – UNTIL DECEMBER 3RD 
Motorcycling SA still have open for nominations, the following Sports Managers positions;
Each appointment is for a two (2) year term – 2022/23, with all Sports Managers getting together for a meeting quarterly, and the MSA Sports Managers Guidelines are also available on request.
Dirt Track
Enduro
Motocross
They will join the returning Sports Managers who's current term is 2021/22;
Road Race – Kym Bolto 
Speedway – Adam Possingham
Nominations for these 3 positions will close on Friday, December 3rd at 5.00pm, with appointments to be decided on, and made official by the MSA Board at the December Sports Managers meeting.
An application form needs to be completed and returned to Motorcycling SA for a person to be considered for the position, and can be found here;