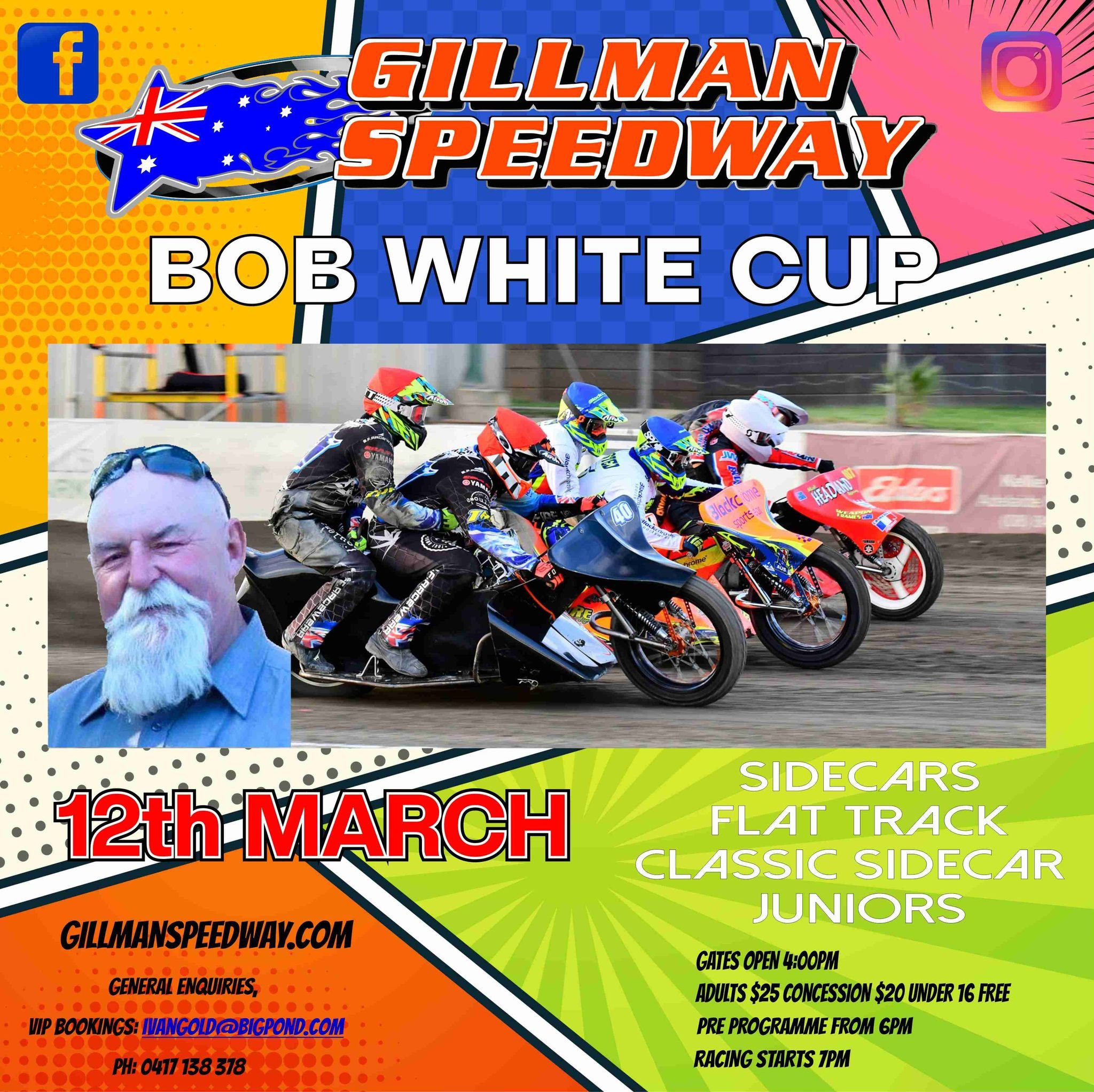 THIS SATURDAY NIGHT 12th MARCH – SHARE THIS AROUND, SPREAD THE WORD – THE BOB WHITE CUP FOR SENIOR & JUNIOR SIDECARS!
This Saturday night will see the Speedway Riders Association pay tribute to a giant of the sport here in South Australia, and around Australia as well, with the running of the 2022 Bob White Cup at their brilliant Gillman venue. Once again a double event with the Cup on offer for both, junior and senior sidecars, the event has attracted a high quality field, and not least due to the Australian Senior Sidecar Championship fast approaching at the same venue – so this will be one of the last chances to cut some laps before it's 'serious time'!
Fantastic also to see 6 junior sidecars entered – and a second all-girl team, with Amelia Silvy & Tayla Lucas joining the Victorian team of Chloe Ackerley & Eva Whitworth – so good to see, especially with a few '2nd generation' names in the field, like Aussie Junior Champ Neische, and Headland & Gates!
So, chuck the deck chair in the boot, mark your spot on Graham Baker Hill, or in the Marker Brothers Grandstand and get a great feed from Gillman's awesome canteen – and then sit back and watch some awesome 3 wheeled action! Go on, you know you wanna!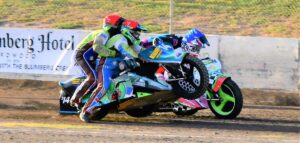 Here's the need to know;
Gillman Speedway. 65 Wilkins Rd Gillman.
Gates Open 4.00pm
Pre-Programme 6.00pm
Racing 7.00pm
Adults $25.00
Concession $20.00
Children U16 FREE.

FREE Off-Street Parking
FREE Grandstand seating
COVID contact tracing at entry gates. Masks to be worn when lining up and being served at all counters and where you cannot or will not practice social distancing.
Canteen, Bar and Souvenir available.
Buy a Programme $5.00 and have a chance to Win 1 of 2 $50 Fuel Vouchers
LIVE STREAM https://speedwayaustralia.tv/ A$27.50
DVD's Mick Hargreaves
For any other information, details and rider list www.gillmanspeedway.com
SENIOR SIDECARS
12        Brian Silvy/Damian Egan (SA-Yamaha), 
88        Matthew Crundwell/James Crundwell (Vic-Yamaha), 
69        Rick Stephens/Nick O'Brien (NSW/SA-), 
970      Dean Hobbs/Daniel Low (SA-Suzuki),
14        Kym Menadue/Shane Dolan (SA-Yamaha),
43        Daniel Puddy/Byron Mordaunt (SA-),
115      Kane Golding/Isaac Amos (SA-Yamaha),
82        Wayne Lethbridge/Grantley Simounds (SA-Yamaha),
27        Stephen Fowler/Willy Walker (SA-Honda),
08        Chris Walker/April Cottrell (Vic-),
108      Max Howse/Riley Commons (NSW-),
64        Brodie Cohen/Jesse Headland (Qld/SA-Yamaha),
256      Paul Hemsworth/Adam Botham (NSW-Aprilia), 
71        Shane Hudson/Adam Constable (NSW-Suzuki),
40        Damien Niesche/tba (SA-),
35        Mark Mitchell/Tony Carter (SA/NZ-),
46        Mitchell Spear/Glen Zaworski (SA-),
84        Darrin Treloar/Blake Cox (NSW-),
684      Jake Treloar/Eli Wright (NSW-Yamaha),
50        Byren Gates/Eli Bock (Vic-Yamaha)
250CC JUNIOR SIDECAR
77        Chloe Ackerley/Eva Whitworth (Vic-),
360      Lachlan Coppen/Hayden Kuchel (SA-Kawasaki),
41        Adam Niesche/Kobi Canning (SA-Suzuki),
28        Amelia Silvy/Tayla Lucas (SA-),
50        Kayden Gates/Harley Ackerley (Vic-Yamaha),
65        Nate Headland/Sam Horton (SA-Kawasaki)
CLASSIC SIDECARS
72        Darren Pascoe/Michael Potts (SA-Kawasaki 900),
Peter Engels/Angela Macfarlane (SA-Suzuki),
82        Wayne Lethbridge/Grantley Simounds (SA-Yamaha 650 & Kawasaki 1000),
03        David Lindsay/Liam Squire (SA-Kawasaki 900),
23        Brian Silvy/Damian Egan (SA-Honda 750),
33        Chris Wakefield/Travis Harris (Vic-Honda),
63        Marc Bowen/Jarrod Wood (Vic-)
SOLO SUPPORT
SOLO FLAT TRACK
46        Seane Chapman (SA-Yamaha 450),
713      Con Twist (SA-Yamaha 450),
215      Matt Paterson (SA-Yamaha 250),
369      Josh Pascoe (SA-450),
181      John White (SA-Suzuki 450),
672      Troy Knights (SA-),
273      Dale Knights (SA-Honda 450),
911      Greg Laanekorb (SA-Honda 250),
18        Jake Mitchell (SA-250),
602      Graeme Eberhard (SA-Suzuki 400),
281      Julian Timmis (SA-Husqvarna 350),
641      Jack Spear (SA-Kawasaki 450),
9          Robert Tumes (NSW-KTM 450)
125CC JUNIOR SOLO
K48      Kobi Canning (SA-),
524      Harry Sadler (SA-),
128      Hayden Kuchel (SA-Jialing),
16        Hayden Pascoe (SA-Honda),
26        Jordan Hargreaves (SA-)
125CC JUNIOR SOLO NOVICE at 6.00pm
112      Ruby Chapman (SA-Honda), 
5          Cooper Coats (SA-),
4          Riley Stout (SA-),
42        Ryleigh McGregor (SA-GPX),
46        Owen Chapman (SA-Honda)
50CC at 6.00pm
16        Riley Edson (SA-KTM), 
PEE WEE at 6.00pm
12        Nate Sadler (SA-),
5          Hope Coats (SA-),
24        Cooper Karpinski (SA-)

Photos courtesy of Derick Thomas Photography – with thanks!