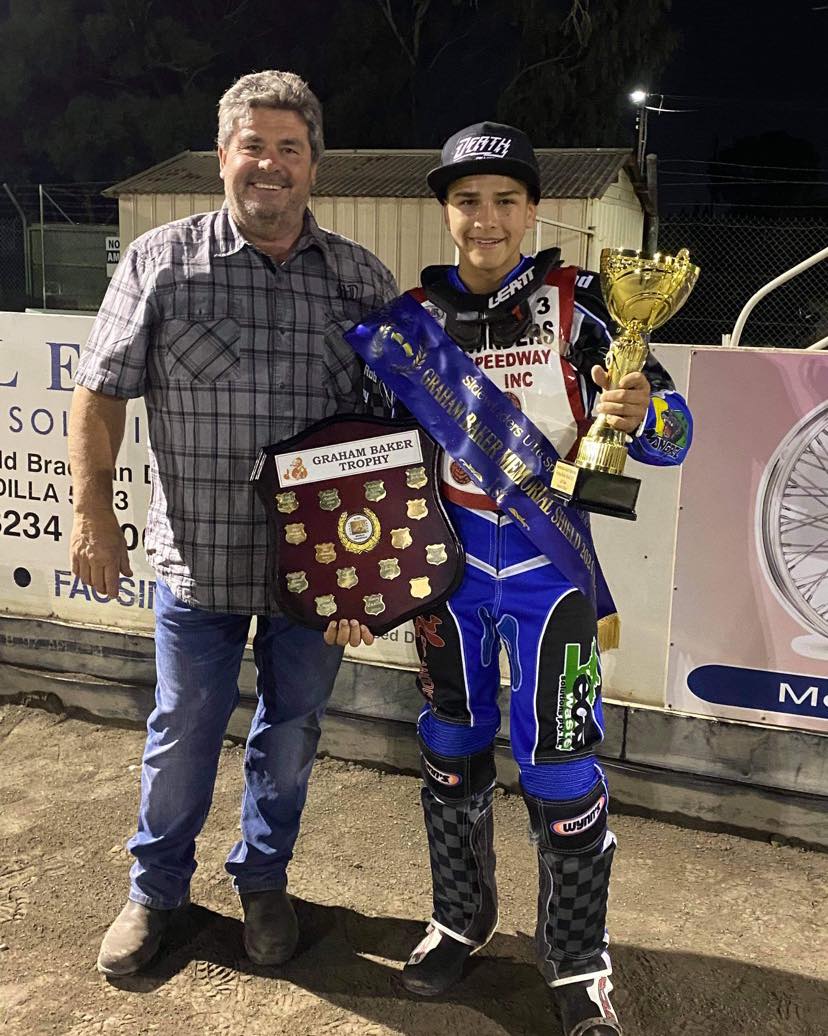 THIS SATURDAY NIGHT – THE 2022 GRAHAM BAKER SHIELD AT SIDEWINDERS!
Nominations are now CLOSED for the 2022 Graham Baker Shield, one of the iconic events held each summer at Sidewinders U16 Junior Speedway each summer – because the event is on THIS COMING Saturday night – February 19th!
The Memorial Shield honours Graham Baker who, along with Roy Bitmead, had the vision and foresight to build a stand-alone junior speedway track and club (Sidewinders) more than 40 years ago in Wingfield, and chances are the 2022 running will be another epic event in the history of the Shield!
And with the Under 16 125cc Australian Championship to be held on this same track over the weekend of April 1-3, this will be one of the last chances for our local riders to have a serious hit out before hand – so look for this to be a meeting of high quality and one not to miss!
The Australian Championships will be held over the first three days of April, with Practise & Qualifying on the Friday, the Individual Championship on Saturday and the Teams Championship on Sunday – it will be a serious weekend of awesome action from Australia's finest junior riders – and could those present be watching a future World Champion in action!
HERE IS THE NEED TO KNOW FOR SATURDAY NIGHT;
ENTRY, Adults – $5.00 only through the gate (kids under 16 are FREE)
Programme – $3.00
Gates, open @ 6.00pm
Pit walk, strictly from 6.00pm – 7.00pm only!
Tapes up, action from 7.30pm
Canteen, open all night (simply, one of the best going around, and complete with dis-abled access)
Toilets, also, complete with dis-abled access
Sidewinders is also a smoking & alcohol free venue!
So, chuck the deck chair in the boot, mark your spot on Graham Baker Hill and get a great feed from the Sidewinders awesome canteen – and then sit back and watch some awesome Speedway sKidz strut their stuff! Go on, you know you wanna!
THE 2022 GRAHAM BAKER SHIELD – THE FIELD
Kobi Canning
Hayden Pascoe
Jordan Hargreaves
Cooper Antone (NSW)
Ashley Jansen Batchelor
Hayden Kuchel
Harry Sadler
Darcey Timmis
Ambrose Fraser (Vic)
Who to watch!
Leading the charge, and hoping to go back-to-back  wins will be Ashley Jansen-Batchelor, with the 2021 MSA Rising Star nominee saying about his 2021 win, "I am so proud and honoured to have won this race. Graham Baker was one of the founding fathers of our club and without people like him, we would not have this amazing track to race on," he said. "This race is special to me because the Baker family has played a major role in my speedway journey and believed in me very early in my career."
Hot on his heels will be the newly crowned 2021/22 South Australian Champion, and 2021 MSA Rising Star finalist for speedway, Harry Sadler, who will be looking to add to his 2020 Memorial Shield win and to get himself ready for a serious tilt at the Australian Championship, as, of course, will Ashley!
It's also no surprise at all to see that a couple of interstaters, in  Cooper Antone from NSW and Victorian Ambose Fraser have snuck across the border, to try and grab some SA silverware, and to get in some track time before the Australian Championship in April!
And then when you add in even more local talent, like SA #4 Kobi Canning and 2021 MSA Rising Star nominee Darcey Timmis, why would you want to be anywhere else come Saturday week?
Support classes!
Keep an eye on the support classes as well during the night – with a number of outstanding juniors coming up through the ranks, and looking like they will have big futures in the sport – and especially the likes of Rory Schlein and Riley Stout in the Novice Class.
Also have a look at the Pee Wee's – these guys & girls are the long term future of the sport and deserve a huge cheer after every 'race' (demo), with the smiles inside the helmets saying more than words can! If you have a youngster (under 9) who would like to ride on Saturday nights, give the Sidewinders Club a call to get all the details!
All action pics courtesy of Derick Thomas Photography, with thanks.
PLUS – GIRLS – HEADS UP FOR THE AUSTRALIAN CHAMPIONSHIPS 
HERE IS YOUR CHANCE TO MAKE AUSTRALIAN SPEEDWAY HISTORY! 
Sidewinders are looking for at least eight (8) junior girls! If the club can get 8 girls to nominate for the Australian Junior Championships in April, they will run a support class with girls' only races. So, if you are keen to be a part of Australian speedway history and start the road to the girls having their own championship – nominate your interest today with; Adam Possingham – apossingham@gmail.com