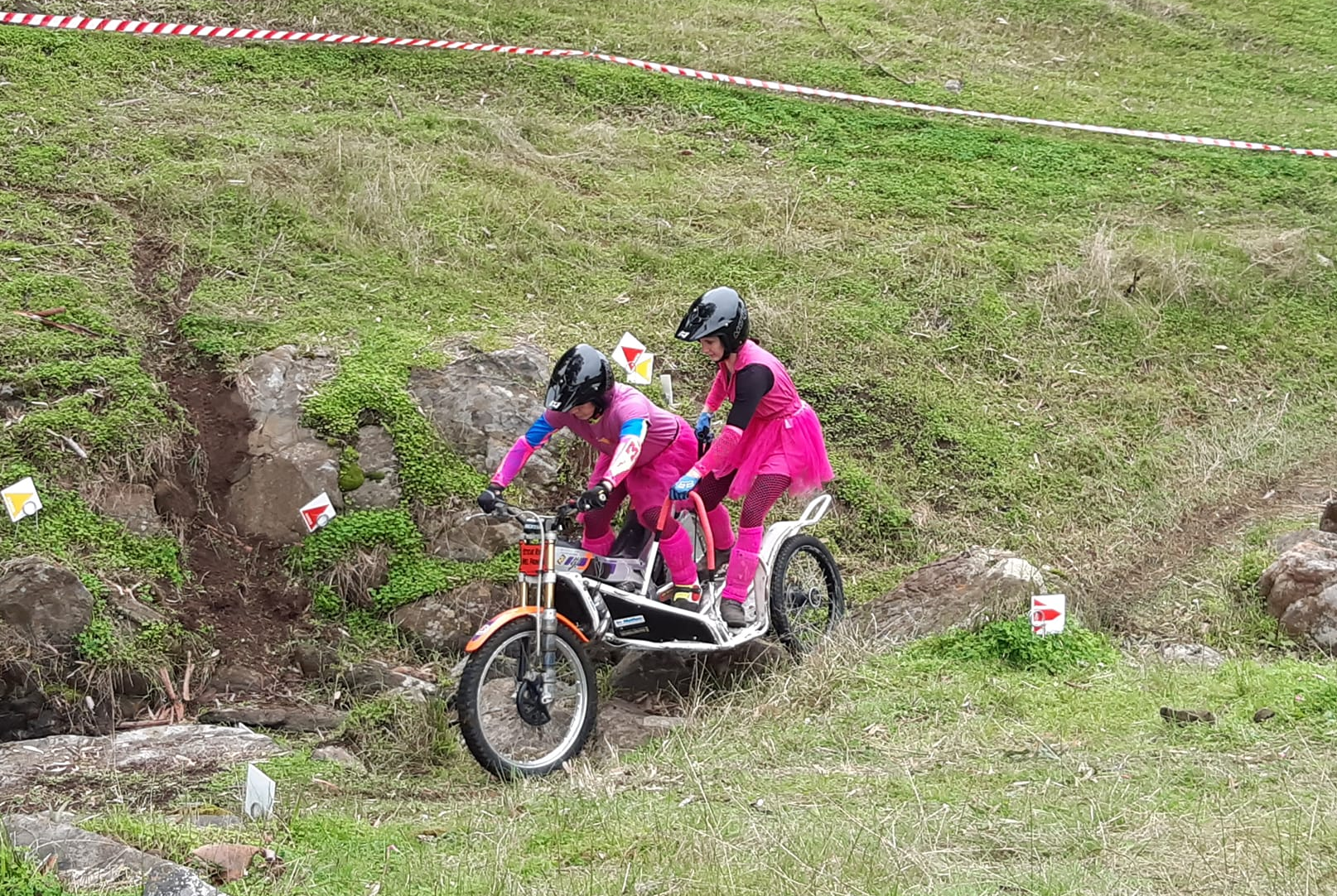 This past weekend saw
Trials South Australia
's Rockhopping SA 2022 SA Women's Cup and the Diener/Holmes Sidecar Trophy held at the beautiful Vine Vale in the Barossa Valley and hosted by Keyneton MCC.  With ten sections for competitors to conquer, over thirty solo riders and sidecars navigated the terrain – results for each class are below.
This was a Ride Pink Day for cancer research – with a portion of entry fee and all funds raised on the day going to our chosen charity in 2022, Camp Quality (SA branch). As such, some of the most unique and humorous ride gear was on show – all for a good cause. Our thanks goes to
AMX Superstores
for hooking up our best dressed with prizes on the day.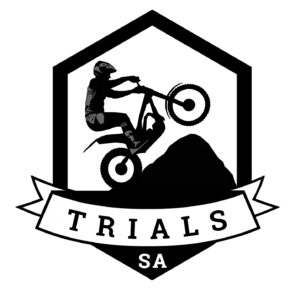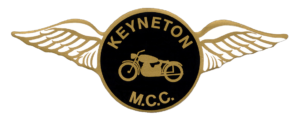 Expert Women
Sunday
Pen
Total
Score
Pentalties
Place
Name
1
2
3
4
5
6
7
8
9
10
Lap
Total
0
1
2
3
5
1
Alisha HARRY
0
5
1
0
1
1
5
5
3
0
21
86
86
21
12
1
4
12
0
0
0
5
1
1
3
5
3
0
18
0
1
0
5
5
0
5
2
3
0
21
0
0
0
5
0
1
0
1
5
0
12
0
0
1
5
1
0
5
1
1
0
14
Sport Women
Sunday
Pen
Total
Score
Pentalties
Place
Name
1
2
3
4
5
6
7
8
9
10
Lap
Total
0
1
2
3
5
1
Hayley STEPHEN
0
2
5
5
5
5
3
5
0
2
32
115
115
15
6
8
6
15
0
1
1
5
3
0
3
0
0
0
13
0
5
2
5
2
5
3
0
5
5
32
3
5
5
5
2
3
2
0
5
1
31
0
2
0
0
2
1
1
0
1
0
7
Novice Women Black Line
Sunday
Pen
Total
Score
Pentalties
Place
Name
1
2
3
4
5
6
7
8
9
10
Lap
Total
0
1
2
3
5
1
Tyler HOGAN
0
1
0
0
0
1
0
0
0
0
2
13
13
45
3
0
0
2
0
0
0
0
0
0
0
0
0
5
5
0
0
0
0
0
0
0
0
1
0
1
0
5
0
0
0
0
0
0
0
0
5
0
0
0
0
0
0
0
0
0
0
0
Novice Women
Sunday
Pen
Total
Score
Pentalties
Place
Name
1
2
3
4
5
6
7
8
9
10
Lap
Total
0
1
2
3
5
1
Rebecca REES
3
2
2
1
0
0
0
1
0
3
12
22
22
38
5
4
3
0
0
0
0
0
0
0
0
0
1
0
1
0
0
0
0
0
0
0
0
0
3
3
1
0
0
1
0
0
0
2
0
0
4
0
0
0
2
0
0
0
0
0
0
2
2
Ella PEACOCK
1
0
5
1
0
0
0
0
0
1
8
41
41
33
9
2
1
5
3
0
0
5
0
0
1
0
0
0
9
0
1
0
1
0
0
0
0
0
1
3
5
2
0
5
0
0
0
0
0
1
13
5
0
0
2
0
0
0
1
0
0
8
Junior Women
Sunday
Pen
Total
Score
Pentalties
Place
Name
1
2
3
4
5
6
7
8
9
10
Lap
Total
0
1
2
3
5
1
Ashley BARWICK
0
0
0
0
0
0
0
0
0
0
0
2
48
2
0
0
0
1
0
0
0
0
0
0
0
0
0
1
0
1
0
0
0
0
0
0
0
0
1
0
0
0
0
0
0
0
0
0
0
0
0
0
0
0
0
0
0
0
0
0
0
2
Lucinda COWAN
0
0
0
0
0
0
0
0
0
0
0
4
4
46
4
0
0
0
0
0
0
0
0
0
0
0
0
1
1
0
0
0
1
0
0
0
0
0
0
1
1
0
0
0
0
0
0
1
0
0
2
0
0
0
0
0
0
0
0
0
0
0
Junior Women B
Sunday
Pen
Total
Score
Pentalties
Place
Name
1
2
3
4
5
6
7
8
9
10
Lap
Total
0
1
2
3
5
1
Lucy CAMERON
0
1
0
2
3
3
0
3
3
0
15
82
82
15
11
9
11
4
2
1
0
3
2
2
0
0
2
3
15
1
2
0
0
3
3
1
5
5
1
21
5
1
0
1
1
2
0
1
3
2
16
0
2
0
0
1
5
1
3
3
0
15
Sidecar 1
Sunday
Pen
Total
Score
Pentalties
Place
Name
1
2
3
4
5
6
7
8
9
10
Lap
Total
0
1
2
3
5
1
Stephen REES
Melissa PAUNOLA
0
1
1
0
0
0
5
3
5
0
15
69
69
22
16
1
2
9
1
1
1
0
0
0
1
3
5
0
12
0
1
1
0
0
0
5
5
0
2
14
0
1
1
0
0
1
5
5
0
5
18
0
1
1
0
1
0
1
5
0
1
10
Sidecar Classic
Sunday
Pen
Total
Score
Pentalties
Place
Name
1
2
3
4
5
6
7
8
9
10
Lap
Total
0
1
2
3
5
1
Colin JAY
Andrew WARNEST
0
0
0
0
1
0
5
5
5
5
21
108
108
27
1
1
0
21
0
0
0
0
0
5
5
5
5
5
25
0
0
0
0
0
0
5
5
5
5
20
0
0
0
0
0
0
5
5
5
5
20
0
0
0
0
0
2
5
5
5
5
22
Trial 1
Sunday
Pen
Total
Score
Pentalties
Place
Name
1
2
3
4
5
6
7
8
9
10
Lap
Total
0
1
2
3
5
1
Adrian HARRY
1
0
0
2
5
1
5
5
1
0
20
65
65
25
12
4
0
9
0
0
1
0
2
2
5
5
1
0
16
0
0
0
0
1
0
5
5
1
0
12
0
1
0
0
1
2
5
1
1
0
11
0
0
0
0
0
1
5
0
0
0
6
2
Haydon BARWICK
5
5
1
2
5
3
5
3
2
0
31
138
138
9
9
7
5
20
1
5
0
3
1
5
5
5
3
0
28
2
5
1
0
1
5
5
5
3
0
27
5
5
0
2
1
5
5
1
0
5
29
1
2
0
2
1
5
5
5
2
0
23
Trial 2
Sunday
Pen
Total
Score
Pentalties
Place
Name
1
2
3
4
5
6
7
8
9
10
Lap
Total
0
1
2
3
5
1
Daniel FRASER
1
1
2
1
5
1
5
5
1
3
25
109
109
12
14
3
8
13
3
0
1
3
1
1
5
5
2
1
22
0
0
0
1
1
0
5
5
3
1
16
3
0
3
0
5
0
5
5
1
0
22
0
0
2
1
5
0
3
5
3
5
24
2
Grant STEPHEN
1
0
5
1
1
0
5
5
1
0
19
180
180
6
10
0
0
34
1
0
5
5
1
1
5
5
1
0
24
1
5
5
5
0
1
5
5
5
5
37
5
5
5
5
5
5
5
5
5
5
50
5
5
5
5
5
5
5
5
5
5
50
Trial 3
Sunday
Pen
Total
Score
Pentalties
Place
Name
1
2
3
4
5
6
7
8
9
10
Lap
Total
0
1
2
3
5
1
Scott IRRGANG
0
0
0
0
0
0
0
0
0
0
0
9
9
45
4
0
0
1
0
0
0
0
0
0
0
1
0
0
1
0
0
1
0
0
0
0
1
0
0
2
0
0
5
0
0
0
0
0
1
0
6
0
0
0
0
0
0
0
0
0
0
0
2
Hayden EARDLEY
0
1
3
2
0
0
0
1
3
0
10
50
50
28
10
2
7
3
0
0
0
0
1
0
0
3
1
0
5
0
0
3
1
0
1
1
0
3
0
9
0
0
0
5
1
0
1
3
3
0
13
0
5
2
0
0
0
0
5
1
0
13
Trial 4
Sunday
Pen
Total
Score
Pentalties
Place
Name
1
2
3
4
5
6
7
8
9
10
Lap
Total
0
1
2
3
5
1
Brenton HOGAN
0
0
0
0
0
0
0
0
0
0
0
0
0
50
0
0
0
0
0
0
0
0
0
0
0
0
0
0
0
0
0
0
0
0
0
0
0
0
0
0
0
0
0
0
0
0
0
0
0
0
0
0
0
0
0
0
0
0
0
0
0
0
2
Andrew TARRANT
0
0
0
0
0
0
0
0
0
0
0
6
6
48
1
0
0
1
0
0
0
0
0
0
0
0
0
0
0
0
0
0
0
0
0
0
0
0
0
0
0
0
0
0
0
1
0
0
0
0
1
0
0
0
0
0
0
0
0
0
5
5
3
Leigh BENTLEY
0
0
5
2
1
1
1
0
0
0
10
21
21
39
7
2
0
2
0
0
0
5
1
1
0
0
0
0
7
0
0
0
0
1
1
0
0
0
0
2
0
0
0
0
0
0
0
0
0
0
0
0
0
2
0
0
0
0
0
0
0
2
4
Harry PETERSEN
0
0
5
0
5
1
1
0
0
2
14
64
64
27
7
7
1
8
0
0
1
5
2
2
0
0
0
5
15
0
0
0
5
5
0
0
0
0
1
11
0
2
0
5
2
0
2
0
2
1
14
1
1
0
5
3
0
0
0
0
0
10
5
Ashton HARRY
0
1
2
5
3
0
3
0
0
3
17
78
78
24
5
4
10
7
0
0
0
5
5
0
2
0
1
0
13
0
0
0
5
5
0
2
0
0
5
17
0
1
0
3
3
0
3
0
3
3
16
0
0
1
3
2
1
0
3
0
5
15
Trial 5
Sunday
Pen
Total
Score
Pentalties
Place
Name
1
2
3
4
5
6
7
8
9
10
Lap
Total
0
1
2
3
5
1
Kieran HILL
0
0
0
0
0
0
0
1
0
0
1
3
3
47
3
0
0
0
0
0
0
0
0
0
0
0
0
0
0
0
0
0
0
0
0
0
0
0
0
0
0
0
0
0
0
1
0
0
0
0
1
0
0
0
0
0
0
0
1
0
0
1
2
Simon WOTTON
0
1
0
0
0
0
0
0
0
0
1
4
4
46
4
0
0
0
1
0
0
0
1
0
0
0
0
0
2
0
0
0
0
0
0
0
0
0
0
0
0
0
0
0
0
0
0
1
0
0
1
0
0
0
0
0
0
0
0
0
0
0
3
Ryan TARRANT
0
0
0
0
0
0
0
5
0
0
5
5
5
49
0
0
0
1
0
0
0
0
0
0
0
0
0
0
0
0
0
0
0
0
0
0
0
0
0
0
0
0
0
0
0
0
0
0
0
0
0
0
0
0
0
0
0
0
0
0
0
0
4
Martin WHITAKER
0
0
0
0
0
0
0
2
0
0
2
7
7
48
0
1
0
1
0
5
0
0
0
0
0
0
0
0
5
0
0
0
0
0
0
0
0
0
0
0
0
0
0
0
0
0
0
0
0
0
0
0
0
0
0
0
0
0
0
0
0
0
5
Andrew EARL
0
0
0
0
0
0
0
3
0
0
3
8
8
47
0
1
2
0
0
0
0
0
0
0
0
0
0
0
0
0
0
0
0
0
0
0
2
0
0
2
0
0
0
0
0
0
0
3
0
0
3
0
0
0
0
0
0
0
0
0
0
0
6
Shane SCHILLER
0
0
0
1
0
0
0
3
0
0
4
9
9
46
1
1
2
0
0
0
0
0
0
0
0
0
0
0
0
0
0
0
0
0
0
0
3
0
0
3
0
0
0
0
0
0
0
2
0
0
2
0
0
0
0
0
0
0
0
0
0
0
7
Andrew YIATROU
0
0
0
0
1
0
0
5
0
0
6
14
14
44
4
0
0
2
1
1
0
0
0
0
0
0
0
0
2
0
0
0
0
0
0
0
0
0
0
0
0
0
5
0
0
0
0
0
0
0
5
0
0
0
0
0
0
1
0
0
0
1
8
Brenton WUNDENBERG
5
0
0
0
0
0
0
5
0
0
10
17
17
46
0
1
0
3
0
0
0
0
0
0
0
0
0
0
0
0
0
0
0
0
0
0
0
2
0
2
5
0
0
0
0
0
0
0
0
0
5
0
0
0
0
0
0
0
0
0
0
0
Trial 6
Sunday
Pen
Total
Score
Pentalties
Place
Name
1
2
3
4
5
6
7
8
9
10
Lap
Total
0
1
2
3
5
1
Hugh CAMERON
0
1
0
0
0
0
0
0
0
0
1
2
2
48
2
0
0
0
0
0
0
0
0
0
0
0
0
0
0
0
0
0
0
1
0
0
0
0
0
1
0
0
0
0
0
0
0
0
0
0
0
0
0
0
0
0
0
0
0
0
0
0
Junior A
Sunday
Pen
Total
Score
Pentalties
Place
Name
1
2
3
4
5
6
7
8
9
10
Lap
Total
0
1
2
3
5
1
Cooper HARRY
0
0
0
0
0
0
0
0
0
0
0
5
5
49
0
0
0
1
0
0
0
0
0
0
5
0
0
0
5
0
0
0
0
0
0
0
0
0
0
0
0
0
0
0
0
0
0
0
0
0
0
0
0
0
0
0
0
0
0
0
0
0
2
Brett SCHILLER
5
0
5
0
0
0
0
1
0
0
11
15
15
43
5
0
0
2
0
1
1
0
0
0
0
0
0
0
2
0
0
0
0
0
0
0
1
0
0
1
0
0
0
0
0
0
0
0
0
0
0
0
0
0
0
0
0
0
1
0
0
1
Junior B
Sunday
Pen
Total
Score
Pentalties
Place
Name
1
2
3
4
5
6
7
8
9
Lap
Total
0
1
2
3
5
1
Cameron STEPHEN
0
0
0
0
0
0
0
0
0
0
0
13
13
47
0
0
1
2
0
0
0
0
0
0
0
0
0
0
0
0
0
0
0
0
0
0
3
5
0
8
0
0
0
0
0
0
0
0
5
0
5
0
0
0
0
0
0
0
0
0
0
0
2
Finn CAMERON
0
0
0
0
0
0
0
3
5
0
8
25
25
39
5
0
5
1
1
0
0
0
0
0
0
0
1
0
2
3
1
0
0
0
1
0
0
3
0
8
0
0
0
0
0
0
0
0
3
0
3
0
0
0
0
0
0
0
1
3
0
4
3
Clarry KNIGHT
1
1
0
0
0
0
0
0
5
5
12
48
48
38
3
0
0
9
0
0
0
0
0
0
0
0
5
0
5
0
0
0
0
0
0
0
5
5
5
15
0
0
0
0
0
0
0
0
5
5
10
1
0
0
0
0
0
0
0
0
5
6
4
Thomas BENTLEY
0
5
0
0
3
0
0
0
3
0
11
62
62
29
4
5
6
6
0
2
0
5
5
2
1
1
3
1
20
0
0
0
0
2
0
1
0
3
3
9
0
0
0
0
5
0
2
0
5
0
12
0
0
0
5
0
0
0
2
3
0
10
Non Comp Solo
Sunday
Pen
Total
Score
Pentalties
Place
Name
1
2
3
4
5
6
7
8
9
10
Lap
Total
0
1
2
3
5
NC
Robert WHITE
48
1
0
1
0