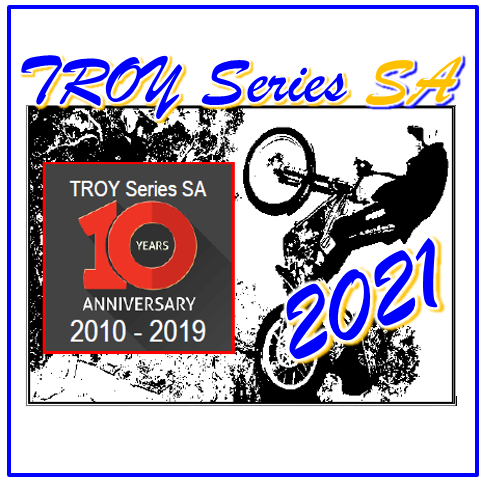 TROY Series SA 2021 KICKS UP THE DUST AT VICTOR
Trials SA's TROY Series SA 2021 kicked off last weekend at Victor Harbor with 44 riders, including 6 newbies, taking up the challenge amongst the yakka bushes and up and around the waterfall.
Run by the AJS MTC, this, now, traditional season starter saw our Australian representative Connor Hogan show his world class by streeting the field to set the lowest score of the day on the hardest line, Trial 1, with Haydon Barwick celebrating his 'first' ride as a senior resulting with a win in the Trial 2 Class, leading home Alex Cowan and Grant Stephen.
Trial 3 was a battle of youth verses experience, with experience getting the better on the day, Aaron Long, Brenton Hogan and Stephen Rees keeping Dan Fraser and the Yiatrou siblings, Lillie & Alex at bay.
With Trial allowing juniors to compete in senior competition (only 1 bike in a section at a time), Trial 4 saw juniors Hayden Eardley and Carl Henschke finish either side of Josh Fraser (1st year out of juniors) for a very young podium. Special mention here also to juniors Charlotte Cowan and Hayley Stephen for taking on the challenge of the blue line, with this being Hayley's first ride in the senior classes.
In the 2 junior classes, there was some new blood showing their wares, with Kody & Bailey Irrgang and Brett Schiller mixing it with the established stars of the future! Kody was 2nd to Australian Champion Harry Petersen in Junior A, while Bailey led home Cameron Stephen and Chelsea Long in Junior B.
In Trial 5, formally known as the Clubman Class, the 'old stagers' in Chris Schultz, Kieran Hill and Martin Whitaker took up from where they left off last year in leading home Jasmine Tarrant and Matt Petersen.
Said AJS Club President, Kieran Hill about the weekend, "Big thanks to all officials & section setters at Sundays Frank Tuck Trial, the first round of this years TROY Series, very happy with the event & weekend as a whole, 44 riders had a great time riding a good mix of sections, with perfect weather there was a great atmosphere around Vics awesome camp fire. Well done team!"
The Frank Tuck Trial 2021 results;
TROY Series SA 2021 – points after round 1;
Trials SA Star Awards – after event 1; 
The Series now moves onto round 2, the 48th running of the Keyneton MCC's Mountain Man Trial on June 20th, to be held in, or near the Barossa Valley – the exact venue will be released when entries open in May.
Before then though, the Keyneton MCC will be running the Rockhopping SA 2021 SA Women's Cup & Diener/Holmes Sidecar trophy on May 16th (entries are OPEN), and the AJS MTC will be running their iconic Peter Sparkes Trophy event on June 6th at Tungkillo – so 2 great events to keep your feet up, before TROY resumes in mid June!