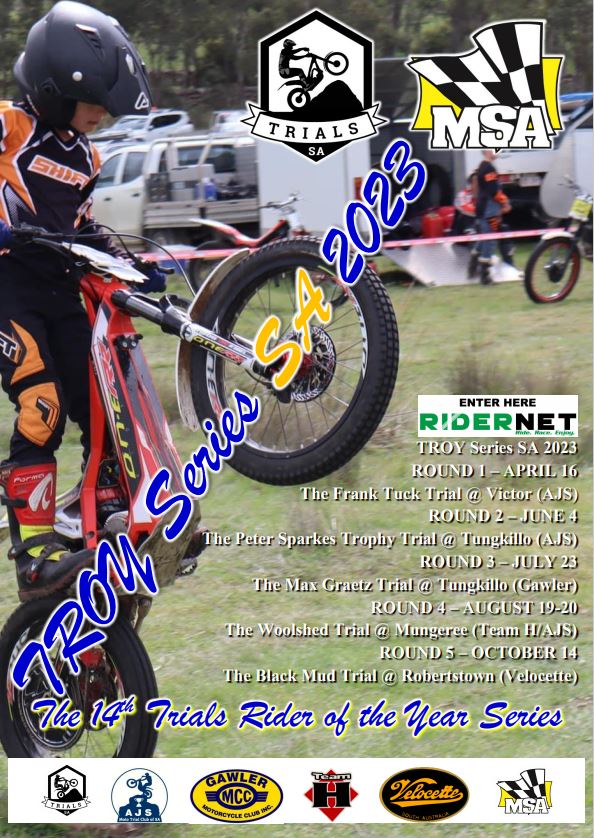 Entries for round 1 of Trials SA's TROY Series SA 2023 are now open on Ridernet, the AJS MTC's Frank Tuck Trial at Victor Harbor on Sunday, April 16th.
All events will have Saturday night camping available, contact the event contact on the sup regs (now available on the Motorcycling SA website) for the details, and what else will be offered in relation to each round – camping, catering, Saturday coaching, etc. These will be different at each round, so contact the organisers to be sure!
In regard to riding conditions and classes, there are no changes to 2023 – TROY Series SA 2023 will once again be a 5 round series that will feature some of SA's finest Trial's terrain, with the 5 rounds for 2022 being;
TROY Series SA will not only complement some of Trials SA's most special events, but also all of the events of Trials Week SA 2023, which will feature the Vine Inn Barossa 2023 Australian Trial Championships, powered by GASGAS, and the AMX Superstores 2023 South Australian Trial Championships in September/October.
The 5 rounds of TROY for 2023 are;
Round 1 – April 16 – The Frank Tuck Trial @ Victor (AJS)
Round 2 – June 4 – The Peter Sparkes Trophy Trial @ Tungkillo (AJS)
Round 3 – July 23 – The Max Graetz Trial @ Tungkillo (Gawler)
Round 4 – August 19-20 – The Woolshed Trial @ Mungeree (Team H/AJS)
Round 5 – October 15 – The Black Mud Trial @ Robertstown (Velocette) 
The full list of classes for 2022 are;
·      

 

  GREEN
TRIAL 1
·        

RED 

TRIAL 2
SIDECAR 1
·       

 

 YELLOW
TRIAL 3
SIDECAR 2
·        

BLUE

TRIAL 4
HISTORIC BLUE
·        

 

WHITE
TRIAL 5
HISTORIC WHITE
JUNIOR A (boys & girls)
·         BLACK
TRIAL 6
SIDECAR CLASSIC
JUNIOR B (boys & girls)
·        

ORANGE

NON COMP SOLO
NON COMP SIDECAR
MINI TRIAL
The colours listed above are also the line each class rides, with the green line being the most challenging, or for the expert riders, down to the black line for the novice riders, with orange being run of section for the newest of riders – so Trial is definitely the discipline that caters for riders of all ages and abilities.
Sidecar 1 & 2 also ride to separate red/white & black/yellow lines, not the single colour as listed above.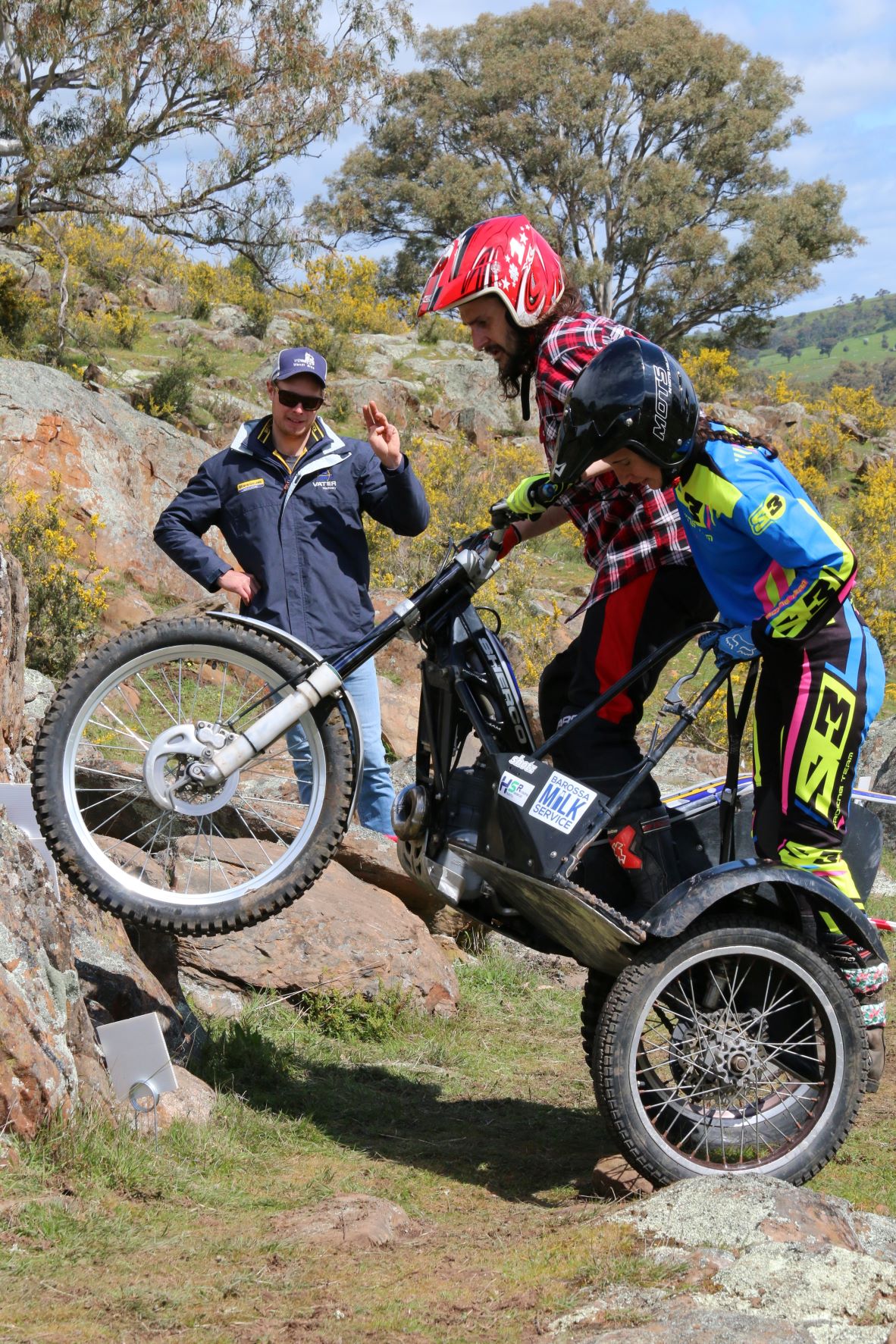 TROY Series SA classes will be as per previous years – and will combine some classes, with the lowest point score on the day getting the TROY points, with the classes being;
·         

RED 

TRIAL 1 & TRIAL 2
·        

 

PINK
SENIOR WOMEN & JUNIOR GIRLS
·         

YELLOW

TRIAL 3
·         

BLUE

TRIAL 4
·      

   

WHITE***
JUNIOR A & JUNIOR B
·         BLACK &

WHITE

TRIAL 5, TRIAL 6 & THE HISTORIC CLASSES
·         

RED

&

WHITE

SIDECAR 1, SIDECAR 2 & SIDECAR CLASSIC
 *** If numbers dictate, Junior A & Junior B MAY run as separate classes in 2023 – which for the sport of Trial is quite a brilliant effort – to have that many junior riders in the sport!
SELF SCRUTINEERING;
Self-scrutineering will once again take place at ALL events in 2023 – with the self-scrutineering attached to all sup regs. Riders have to print off the form and bring it to sign on at events – no form, no ride! But, Scrutineers will still check up to 10% of all bikes, as well as ALL helmets.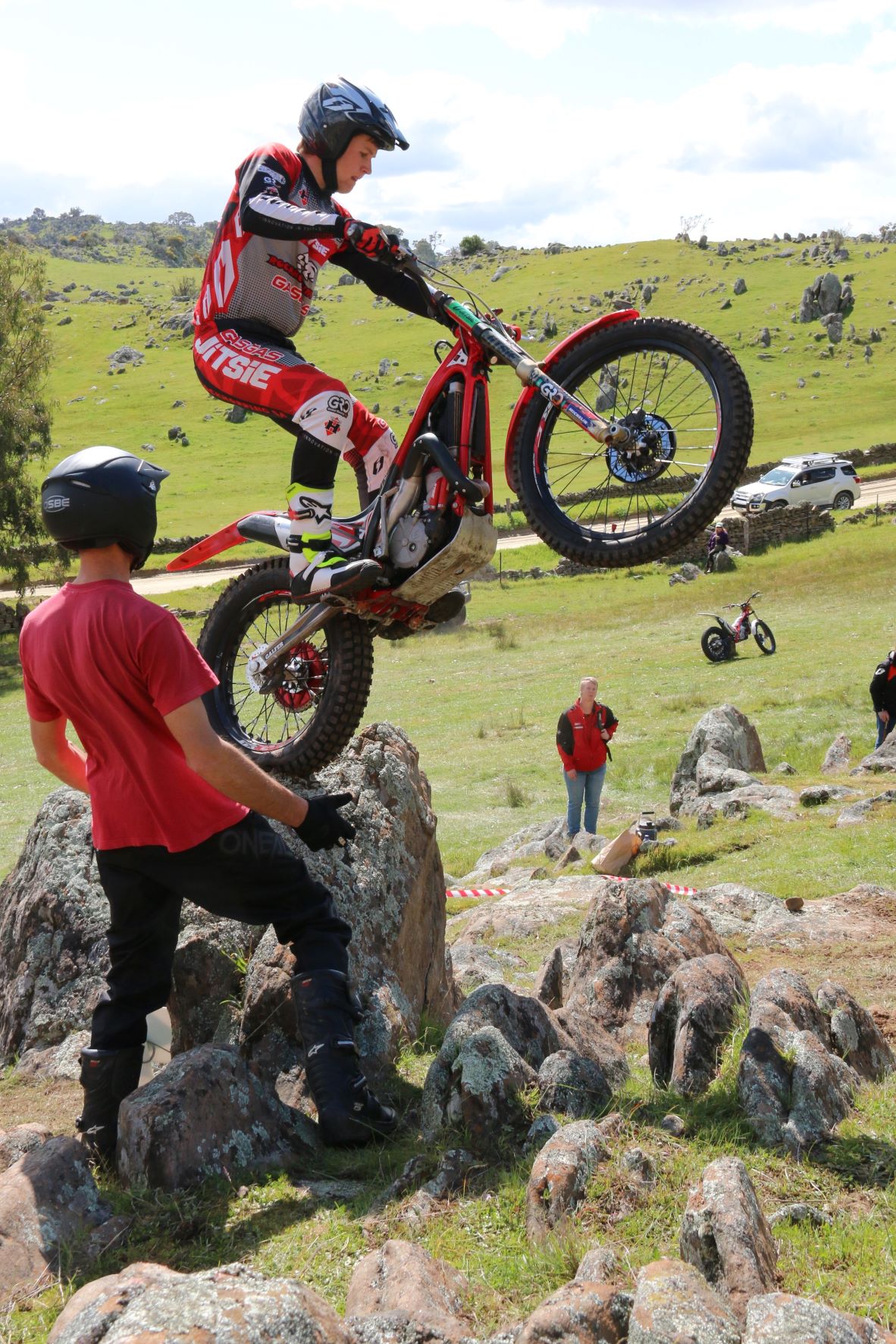 ENTRIES FOR 2023!
Entries will be open at least 4 weeks before each round and will CLOSE at 11.00 pm on the Tuesday before each round, and only entries received through the Ridernet system will be accepted.
Late entries; MAY be accepted for an extra 24 hours, also through Ridernet, with a late fee of $20.00 per entry, so to 11.00pm Wednesday, as listed below.+
| | |
| --- | --- |
| ENTRIES CLOSE | LATE ENTRIES CLOSE |
| ·         Round 1 – Tuesday, April 11th | Wednesday, April 12th |
| ·         Round 2 – Tuesday May 30th | Wednesday, May 31st |
| ·         Round 3 – Tuesday, July 18th | Wednesday, July 19th |
| ·         Round 4 – Tuesday, August 15th | Wednesday, August 16th |
| ·         Round 5 – Tuesday, October 10th | Wednesday, October 11th |
Looking forward to seeing everyone out 'on the rocks' in 2023 as the Trials South Australia community look ahead to September and gear up for Trials Week SA 2023 and the Vine Inn Barossa 2023 Australian Trial Championships, powered by GASGAS!
📸 Credit Ella Peacock's Mum and Brian Lang