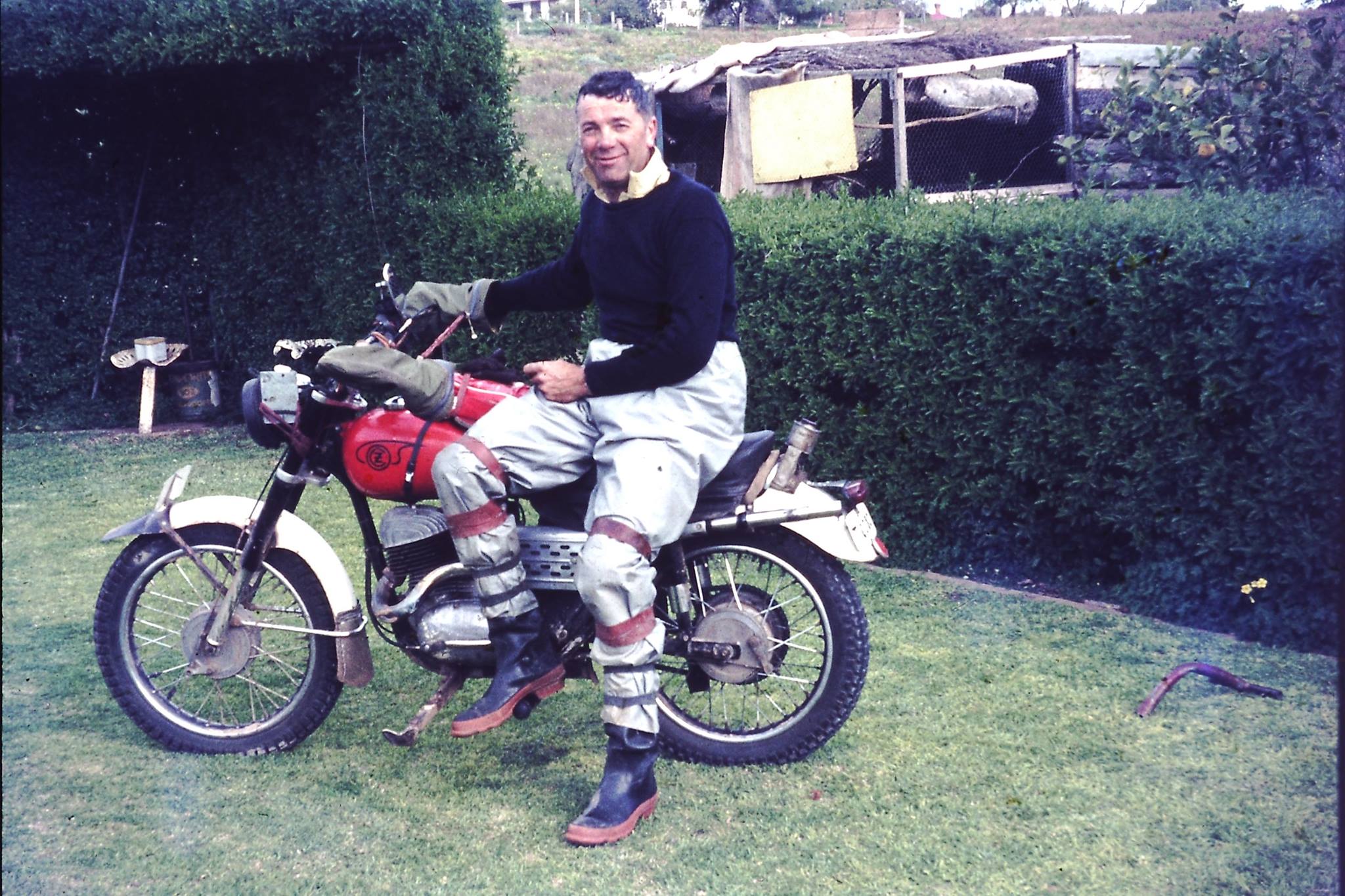 VALE MAX GRAETZ
Motorcycling SA lost another of its true legends on Saturday, September 28th, a  short 8 days after the passing of Road Race & Trial icon, Mr Peter Sparkes, with Max Graetz, also well into his 90's, leaving another gaping hole in SA motorcycling,  an amazing 60+ year legacy on the sport of motorcycling in South Australia.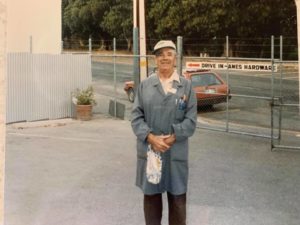 Over the course of Max's  life, he has been a competitor, official, supporter and fan, and he was also that great character that every sport needs, especially in his latter years when he would spend the 24 Hour Trial running route checks, first in the middle of competition sections complete with many road signs borrowed from council yards, with Weicherts Paddock at Bethel a favourite location – always a bit off putting to see a level (rail) crossing, or speed hump, or speed limit signs in the middle of a paddock at 3.00am in the morning!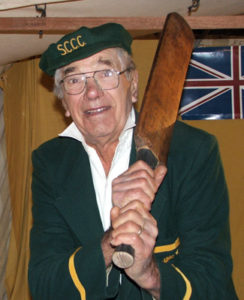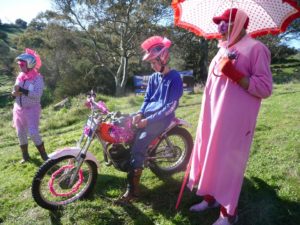 In latter years he moved to a roadside location where riders could stop and say hi to the various characters he came up with every year, Don Bradman and Ned Kelly among them, before, when age started to weary him, setting up at main control at the end of the trial to welcome home the riders in character, with Moses and a Russian General just a couple of favourites.
And – as the above pic (right) shows – when it came to supporting a cause, like raising money for breast cancer research, Max was right there dressed for the occasion – he couldn't not be part of it!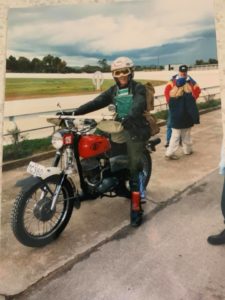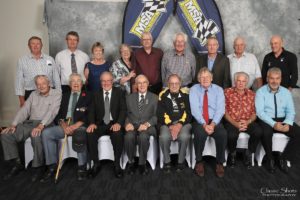 A handy rider on his beloved CZ in the early 1970's, Max was a driving force in the Gawler MCC becoming affiliated in 1971, becoming a proud Life Member of that Club, as he also was of the Keyneton MCC, an honour bestowed on his for all of the help he gave that club, as well as being a member (pre-Gawler affiliation and in his latter years as well) – and in 2007 he was acknowledged by Motorcycling SA for his contribution to the sport by becoming an inaugural Life Member of MSA.
Max's funeral will be held on Friday 4th Oct at 1130am at the Immanuel Lutheran Church Gawler – dress code (optional) bib overalls & flanney shirt!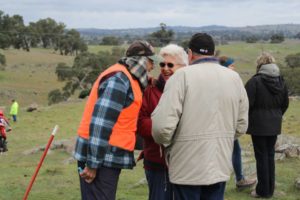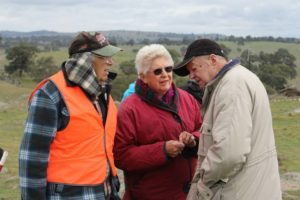 Max with Alison and Peter Sparkes at a Peter Sparkes Sidecar Trophy Day – with Max also having the Gawler MCC's annual Trial named in his honour.
AND
FROM DAUGHTER JUDITH;
It is with a very heavy heart that I inform all of my friend's on facebook that at 9:20 last night we lost this great man. My father – Max Graetz passed away peacefully on the 28th September 2019 aged 92 years and 9 months.
It's a time to treasure the time spent with him, share the wonderful stories and smile at all the jokes he told.
Reunited with Tessa and Brian.
And also ….. 
I would like to thank everyone of you who have posted your condolences to us,your love and support has been amazing. All the beautiful words about my dad and the children's grandfather and great grandfather were so amazing, they have helped us get through this very hard time.
He was one very special man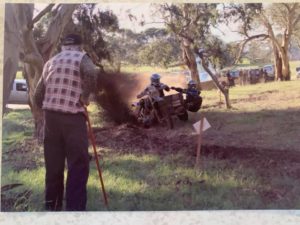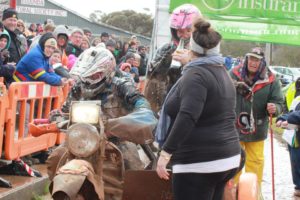 Watching his family compete – in his latter years, it meant everything to him! 
FROM GRANDSON CHRIS;
For the second time in my life I am truly heartbroken & am left with a void in my heart. Pa, you were always there, when ever I turned around you were there! 
It's been demoralising to watch what was such a strong, tall proud man slowly weaken over the latter years & not be able to do even what were the simplest things & get so frustrated in doing so, you can rest up now Pa.
You were such an influence & role model to me, you taught me so, so much & I hope I have made you proud & continue do so, I love you & will always love you, till me meet again old timer xxxxxx
FROM GRAND DAUGHTER KRISTY;
They say time heals all wounds and it gets easier, but how can we get over the passing of this man, the backbone of our family, the man who guided me through 95% of my life after my Dad was killed. I thought he was invincible, that he would be around forever, that he would always just be there.
May you rest in peace Pa, I am so eternally grateful for the life you helped give us! Fred (cat) and Fred (Kolby) will both miss you so much! 
FROM GRAND DAUGHTER HAYLEY;
Your were what all men should be like, down to earth, humble, gracious, true blue Aussie.
So so thankful that you were able to get to the finish of this year's 24, that I will hold dear to my heart. You lived a bloody amazing life.
Dad wouldn't have wanted any other human to have taken the role of our father figure. Thank you from the bottom of my heart for all you did for us. You always went above and beyond not only for us but anyone. My heart hurts that I won't get to see your face, your smile, your overalls and all that you were in real life any more.
Keep living the best life up there like you did here.


AND FROM (JUST A FEW OF THE HUNDREDS) THE MOTORCYCLE COMMUNITY OF SA
Leanne & Shane Kraft
We all shed a tear with your family as we too reflect on his amazing life. We will definitely never forget him, his individuality and great sense of purpose in this world – he was one of a kind that's for sure.
Ever dependable and well….just Max!! A True gentleman to the core and it was an honour to know him. Our heartfelt sympathy to your whole family from the Kraft family xx RIP Max
Adrian Harry (Australian Trials des Nations Rep)
Sorry to hear. True gentleman. Always felt in the presence of greatness. Feel for you and your family. Also thankful to the great man you had to shape us all.
From back on my L plate days in the 24 Hour getting an introduction to cross dressing and 'secret controls' right up to the now.
My daughter, only 11 now, when I asked if she remembered ole Max, her reply all that needed, 'Oh yea, he was the man that read me a poem and gave me a flower'.
So glad we all took the time..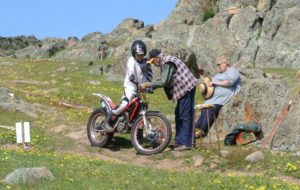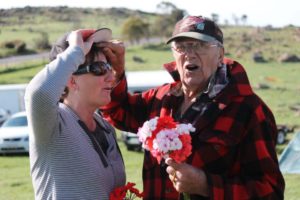 Jo Ahrens (above right getting a flower from Max)
Just taking a moment to share some great memories of a beautiful man who left this earth Saturday night at the tender age of 92.
Rest In Peace, Max – you brought so much joy to so many people. You will be greatly missed, but never forgotten.
Alive alive oh
Alive alive ohh
Singing cockles and mussels
Alive alive oh
Christopher Paunola (Keyneton MCC president)
Max was a true gentleman and legend in motorcycling. I was lucky enough to have spent time with him going to and from club meetings listening to all the story's of yesteryear. Rest In Peace Max.
Justin Gough (15 time Australian Trial Champion from Queensland)
My sincere condolences to you all on the passing of a great man. Rest easy Max you bloody Legend. Our thoughts are with you all. The Gough Clan.
Greg Kipling – 24 Hour Trial competitor
So sorry to hear. A true legend. Max's antics at the 24 Hour Trial will live on in the history of the event. I rode six 24 Hours but only finished 1 and I'll never forget seeing Max as I crossed the line dressed as a Russian something or other, LOL. RIP Max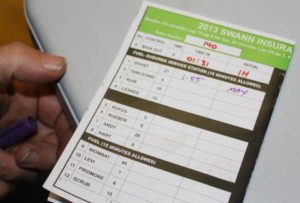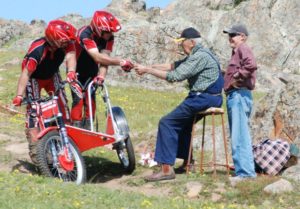 A 2013 24 Hour Trial score card signed for 'Max' and Max in one of his 'happy places' watching grandson Chris ride a trial while observing on a section (with fellow KMCC & MSA Life Member, Ross Evans)
REST EASY NOW MAX – JOB WELL DONE!