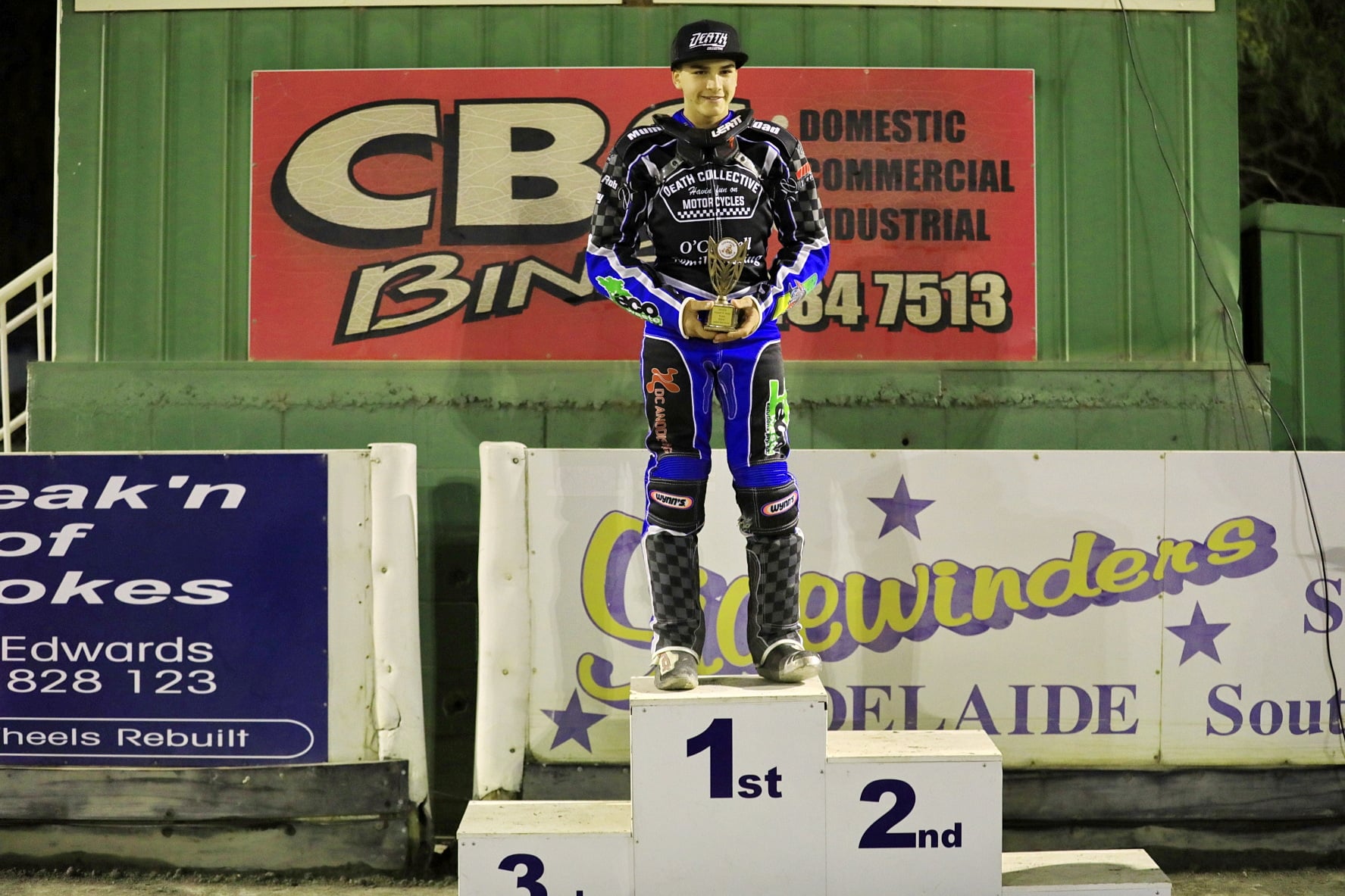 VICTOR HARBOR'S SPEEDWAY STAR FINISHES HIS SUMMER SEASON ON A WINNING NOTE 
Friday night was the final race of the summer season for Ashley Jansen-Batchelor with a strong field of local and interstate riders from Victoria and NSW competing at Sidewinders U16 Speedway Club for the Presidents Cup ANZAC Medal Meeting.
Ashley Jansen-Batchelor had a near perfect run winning all of his heats giving him first pick of gate position and led the race from start to finish out of gate one. This was Ashley first 15 point maximum at Sidewinders Speedway Track and capped off an amazing season for the young speedway star.  Second place went to Harry Sadler (SA), third went to Riley Plum (Vic) and fourth went to Oli Bergic (NSW). The racing was top notch and all the competitors should be proud of how they rode.
Ashley said, "I am really happy to finish the season with a win and I am really proud of my achievements this year. It is a great feeling to achieve some of my goals that I set at the start of the season.
Thank you to everyone at the club and all the volunteers for putting on another great event. I could not have done this without a great support team behind me so I would like to thank Phil Mackay for the awesome motors, my Mum & Dad, Uncle Rob and Granny for always supporting me in every way possible to do what I love and a massive thank you to my supporters and partners."
The O'Connell Family Racing Team
Mum & Dad Uncle Rob & Granny
Ecowaste Solutions Pty Ltd & CBS Bins
DC Anodising Pty Ltd
Death Collective
Darren Disbury
Encounter Support Services
Repco Victor Harbor
Wynns Oil Products
Peter Wikaire
Mongrerl MCA For Wulfsports
Photos by Joylene Lee-archer – with thanks!