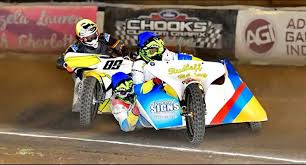 SATURDAY 8TH
This weekend sees only 1 event on – so you really have no excuse but to head to Gillman Speedway for another huge night of 3 wheeled action along with some great solo support!
ROUND 2 SIDECAR SUPER SERIES.
Gates Open 5.00pm, Racing 7.00pm
Adults $25.00, Concession $20.00,
Child 12 to U16 $5.00, Children U12 FREE.
Family $55.00 (2 Adults, 4 Children)
GILLMAN SPEEDWAY Wilkins Rd GILLMAN.
Points after round 1;
Shane Rudloff / Scott Morris 17
Neil Hancock / Brendan Johnson 16
Kym Menadue / Eric Melton. 15
Dave Bottrell / Klae Hobbs 14
Rick Stephens / Nick O'Brien 11
Thomas Adams / Alice Cox 10
Dean Hobbs / Glen Zaworski 9
Nathan Fleet / Ayrton Canning 8
Aaron Silvy / Jaron Silvy 8
Stephen Fowler / Corey Palmer 5
Brian Silvy / Cameron White 4
Brenton Kerr / Cameron Diwell 4
Darryl Woods / Willy Walker 4
Wayne Lethbridge / Grantley Simounds 1
Nathan Johnston / Dylan Schweikert 0