Looking for a Motocross Club?
Want more info?
Email Motocross Sports Manager
2023 SA Motocross Championships
Check out the MSA calendar for info on Club events and Ride Days for Motocross, and stay informed by following SAMX on Facebook.
Supp Regs when available for all SAMX Championship events can be downloaded here.
2023 SA Motocross Riding Number Information
From the date of the riders licence expiry, there is a 90 day timeframe that the numbers will be secured under that licence before they become available to anyone to save that number to their name.
Numbers are requested through Ridernet 2.0 in the Request number page: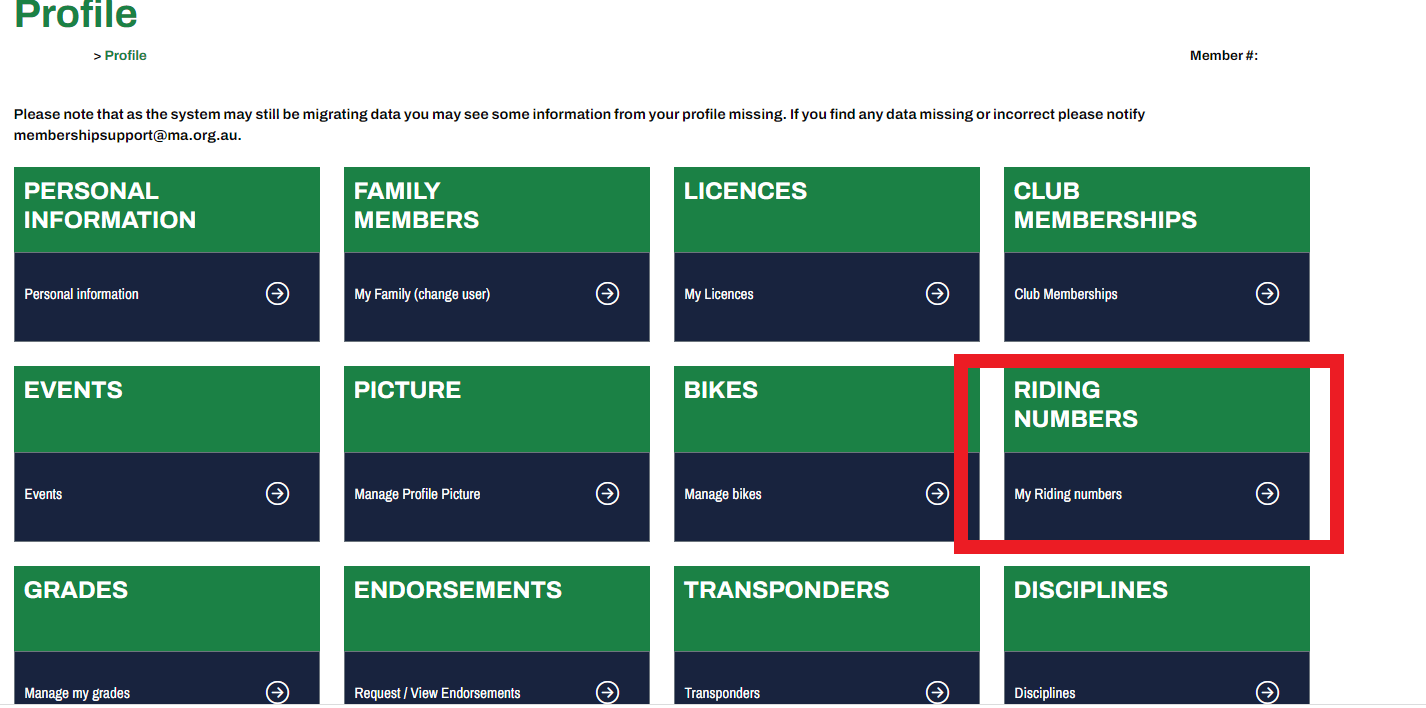 Full how to guide on selecting a number – HERE. 

Round 1
Round 2
Round 3
Round 4
Presentation Night
 April 29 & 30
May 20 & 21
August 5 & 6
September 9 & 10
October 14
Gillman
Renmark
Monarto
Gillman
TBC
Motocross Riders Association
Riverland Junior Motorcycle Club
South Coast Motocross Club
Motocross Riders Association
Motorcycling SA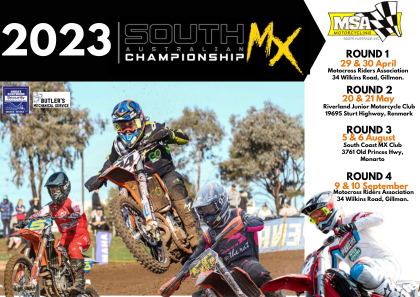 Getting a Number:
How to Guide on getting a number: HERE
*Important Note: If you are competing in multiple disciplines and wish to have the same number, please contact the MSA Office* (Please be aware that having the same number may not always be possible). 
Junior Motocross Numbers:
Junior Motocross Numbers
Range: 19 – 999
Junior Motocross Competition Classes
| | |
| --- | --- |
| 7 to under 9 | 50cc Auto class |
| 7 to under 12 | 65cc Solo |
| 9 to under 12 | 85cc 2 stroke & 150cc 4 stroke (std wheel only |
| 12 to under 16 | 85cc 2 stroke & 150cc 4 stroke (std or big wheel only) |
| 13 to under 16 | 100cc to 125cc 2 stroke |
| 13 to under16 | 150cc 2stroke & 200cc to 250cc 4 stroke |
| 11-under16 Girls | 85cc |
| 13 under 16 Girls | 125cc 2stroke & 250cc 4stroke |
Senior Motocross Competition Classes:
CLASS
CAPACITY (2 OR 4-STROKE)

MX 1

122cc and over
SX 1
122cc to 450cc
MX 2/SX 2
Up to 250cc Wheel sizes 16″ – 19″ – 21″ front

MX 3 (14 to under 18)

Endorsement applies

122cc to 150cc 2-stroke & 250cc 4-stroke Wheel sizes: 16″-19″ rear and 19″-21″ front
MXW (Women)
All Powers
MXV (Veteran) 30 to 39
All Powers
MXV (Veteran) 40+
All Powers
Sidecars
Motocross Plate Colour Information:
Senior Age Group Racing:
| | | |
| --- | --- | --- |
| CAPACITY or CLASS  | BACKGROUND COLOUR | FIGURE COLOUR  |
| 250cc & Over | White | Black |
| Up to 250cc | Black | White |
| MX3 (14 to under 16 Jnr) | Black | Yellow |
| (16 to under 18 Snr) | Black | White |
| MXW | Reflex Blue | Yellow |
Junior Age Group Racing:
| | | |
| --- | --- | --- |
| CAPACITY or CLASS  | BACKGROUND COLOUR | FIGURE COLOUR  |
| Under 9 | Mid Blue | White |
| 9 to under 12 | Canary Yellow | Black |
| 12 to under 14 | Mail Box Red | White |
| 14 to under 16 | Black | Yellow |
| Girls | Magenta | White |