Long Business Description
CONTACT : Martyn Chambers
President : Jerry Kushnir
Secretary : Martyn Chambers
Treasurer : Rob Francis
Atujara covers all disciplines of motorcycle competition, as well as classic and modern road runs. Their competition aspect has varied over the years, but currently involved in classic road racing mostly.
Business Address
17 Athol Avenue, Tranmere, SA 5073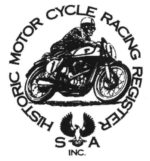 Long Business Description
CONTACT : Danny Ahern
President : Danny Ahern
Secretary : Trevor Henderson
Treasurer : Dean Watson
Established in 1977, the HMCRRSA caters for road racing machines from Period 1 Veteran dated pre 1919 to Period 6 New Era to 31st December 1990, and both promotes and organises track and road race events in South Australia. Members race here and Interstate at premier historic events.
Business Address
PO Box 311, Campbelltown, SA, 5074